I picked you out long before I knew about shelters, rescues or anything about caring for you properly. You were this adorable little bundle of love with all that crazy abby hair. I picked you because when I reached in to pet you you made a happy noise, and then ran away and bit your friend. I went to see you every day in the pet store, and I prayed that no one would take you home.
Once I got back from my vacation I rushed to the store to make sure you were still there, and I bought you immediately. You spent the entire car ride home cuddled in my arms. I was amazed at how much noise such a little guy could make, and stunned at how much food you could consume.
As the years passed I got better at taking care of you, I gave you a bigger house and better food. People thought I was crazy for having a bale of hay in my apartment, but the joy you expressed at each new feeding more than made up for it. You came everywhere with me; you've been on cars, ferries, and float planes. I remember how much you loved the Charlotte's and all that green grass and yummy weeds. I loved the way you would try to trick us into giving you double veggies; crying so piteously at Corey when he came home from work and begging at the side of the cage.
I knew that we wouldn't have you for much longer when we diagnosed your kidney problems, but you just kept fighting. You were the bravest pig I have ever met, it didn't matter how sick you felt you fought long and hard. I'm so glad that we spent weeks syringe feeding you last summer, I got several more months with you which was worth all the lost sleep. I'm sorry for all of the needles, but I always made it up to you with extra good veggies or a favourite fruit. You always forgave me, and gave me those sweet piggy kisses.
When you died you took a piece of my heart, but I know that you are over the Rainbow Bridge with all of your brothers and sisters. I know that your kidneys don't hurt anymore, your bladder is perfect, and you can see everything. I know that you will be fine until I get there, you always were my fearless explorer pig. I love you Gavin, and I just wish we could have had more time (and that I had better pictures).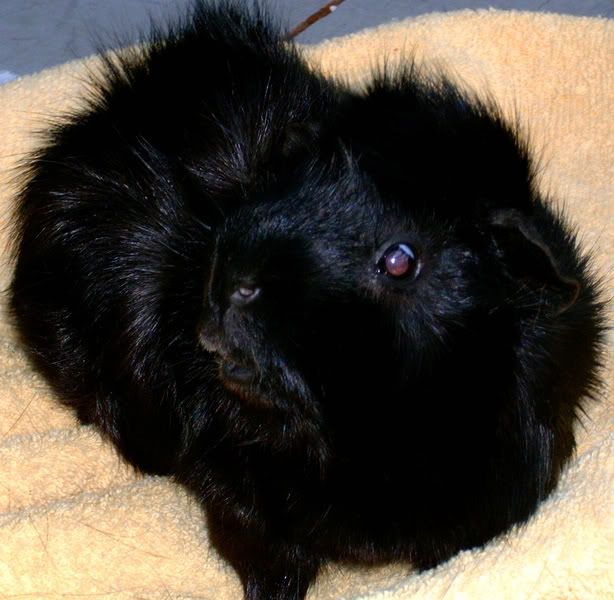 Gavin: March, 2000 to February 11, 2005.