Hi there,
I'm new to the board and thought I would tell you a little about my pigs. I have two girls and a boy.
Scruffy is five years old and quite the lap pig. During floor time I have to chase her around to get her to exercise, she's very fond of sitting in the middle of the room like a big hairy lump. She has a bit of a weight problem and recently suffered from very weird lump of puss on her throat that my vet had to remove surgically. She did very well during the surgery and aftercare and is once again healthy and happy.
I'm not sure what kind of pig Scruffy is, she's tri-coloured with very soft shiny hair. Here's my girl: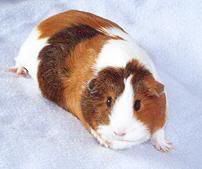 Nadia is three years old, she lives with Scruffy. She's affectionately known as "The Biter". She's fast as lightning during floor time and her evil red eyes have scared more than one visitor away from petting her. ;) She was a gift from my boyfriend on Valentine's Day and she refuses to enjoy being petted or held.
And last is my boy Pepe. I adopted him from the SPCA four years ago as a buddy to my first pig Basil. They never really got along well enough to live together but they did spend daily floor time together. He's become a real sweetheart in his old age and loves to just lay on your lap. His hair is much coarser feeling than the girl's and he has a bit of a mohawk on the top of his head.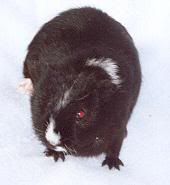 And here's their home that my husband built for them. It's a C&C cage. All of the yellow and part of the blue is the girl's part of the cage and the end part of the blue is Pepe's home.