After wanting a guinea pig for about 15 years, I finally decided to do some research on the little guys. So after about 2 weeks of net research and finding out how to tell healthy pigs from sick ones, and how to sex them, (I have never been a big fan in internet forums so I hadn't found this site yet) and after setting up a cage for it, I went around to a couple pet stores to find my new little friend.
2 days later I came home with KC.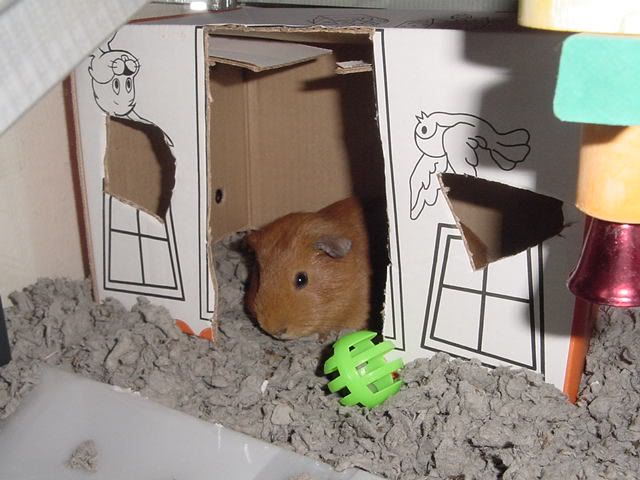 His first cage was extremely small, about 30 inches by 20 inches (I look back now and cringe at my ignorance) and he just sat around most of the time so I wanted to make him a bigger cage with some room to run around. My wife wouldn't let me buy anything else to make the cage any bigger, so, with my creative juices flowing freely, I pieced together a pen about 6 feet long by about 1 foot 8 or 10 inches wide out of Plexiglas, hardware wire mesh, a 10 gallon aquarium on it's side (which made a nice sturdy second level), empty cereal boxes, plastic painters drop cloth for the lining, and duct tape. All of which I had lying around the apartment from previous projects.
After I got that finished I put KC back in the cage, and he loved it! He started popcorning and running all over the place, but something still just didn't seem right about him so I did some more research, still keeping clear of internet forums and just sticking with info pages and the likes. The next day I found out that GP's are heard animals and do best in at least a pair, so I went in search of a friend for him.
2 days after getting KC, I brought home Rodger from another pet store (I was still ignorant of all the homeless piggies at this point).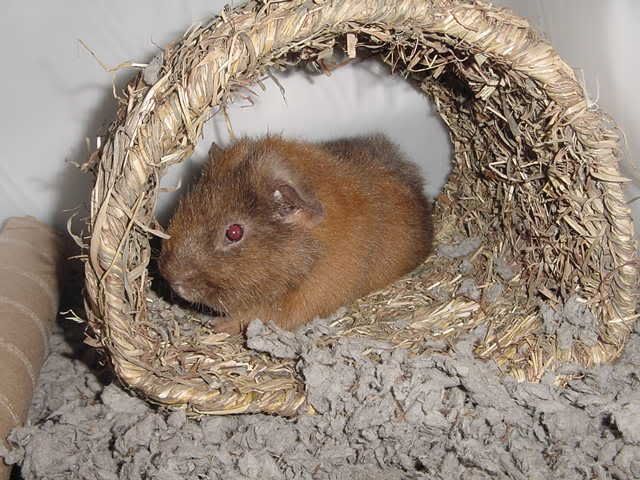 I didn't know anything about quarantine periods so as soon as I got Rodger home, I barricaded off a section of the hallway, put them both down on the floor, and stood by with a towel in hand. They hit it off pretty quickly. There was a little rumblesrutting, and some curious noises, and many mounting attempts made by KC, but no fights, no flying fur, no blood. It went very well. I think though that they tolerate each other more than anything. They never sleep together, cuddle with each other or anything, but they live in harmony.
Next, finding GL and the first vet visit.