Snoopy was a guinea pig I will never forget.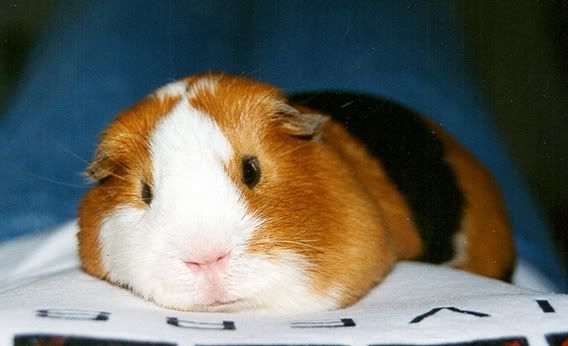 Our family had guinea pigs when I was a child, but they were taken care of poorly by me and by my family out of ignorance. Snoopy was the first pet I had that was truly my companion, although I'm sure his life was shortened by my ignorance as well.
About 15 years ago, when I was still going to university I moved in with my then boyfriend (now husband), Gord. I was home a lot, working on my master's thesis and I wanted a pet for companionship during the day while Gord was away at work. I mentioned to Gord how cute guinea pigs were and how I'd like to get one. He looked at me like I was nuts, telling me that guinea pigs were a kid's pet. But I started looking at pet stores in the area for baby guinea pigs.
Like many, I eventually purchased my guinea pig from a pet store. I had actually put my name on a waiting list for a baby pig at a petstore who assured me that their breeder had a new batch of pigs coming along soon (which was undoubtedly true). This wasn't fast enough for me though, so I kept looking at other pet stores.
One day, Gord and I were at a mall in Victoria, BC (where we both lived at the time) and I saw Snoopy in a petstore there. I had to have him. The pet shop manager said he was just a few weeks old. I held him and fell in love. I looked at Gord and he and I knew we were getting this pig. The manager wouldn't let me take him home unless I bought a cage and supplies there, or could prove I had bought them elsewhere. I had already seen a cage I liked at another petstore and so the manager put the pig "on hold" for me until I could come back with the receipt for the cage, bedding and food.
The next morning I got up early, bought the cage and supplies I wanted and headed off to the petstore in Victoria in my trusty Chevette. I took him home with me and set up the cage, put him in it and watched him from a distance the whole day. I remember I even got out binoculars so I could look closely at him from across the room. Nothing was done on my thesis that day.
I waited and waited to be inspired with a name for the new pig. Days went by. I couldn't think of anything suitable. Gord started calling him Snoopy, temporarily. I insisted this was not going to be his "real" name. More days went by. Still no inspiration. He became Snoopy. And Snoopy was his name.
I was very lucky: Snoopy was actually a boar, like the petstore said he was. I don't believe he had mites. We had two scares with Snoopy: the first one was when we thought he was having seizures. I decided to do some research into this issue and logged on to the internet using my 1200 baud dial-up modem. I found out from the "Guinea Pig Daily Digest" that he was just popcorning. A couple of years later we had a second scare: Snoopy fell out of my hands when I was picking him up out of his cage and lost both front teeth. I now had a 2400 baud modem and found out twice as fast that his teeth would grow back. I slivered carrots (too many) and lettuce and he continued to eat and eat. I never weighed Snoopy, but I'm sure he topped 3 pounds. He was a hefty pig.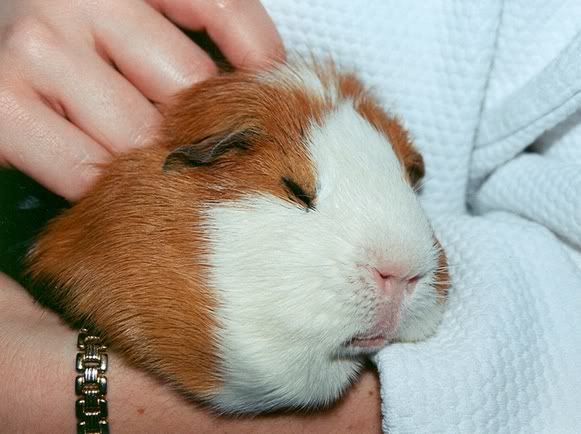 Gord came to have a deep fondness for Snoopy as well, although he would never admit to 'loving' him, like me. I think he did though. Especially when Snoopy would popcorn and do laps around the dining room table.
Snoopy came with me when I moved back to Alberta in 1994 to start work on my Ph.D. dissertation. He kept my lonliness at bay while Gord and I lived in separate provinces for a number of years. Snoopy was a singleton pig, and I'm sure he was lonely too. He graciously made do with me as his companion. He was a lap pig extraordinaire! He would lie on my chest for a long long time, pooping but never peeing on me. He had full run of my computer room, which is where I would do my studying and dissertation-writing. He would do full-out laps around the room and around me when I would lie on the carpet with him. He would lick my fingers or toes, or whatever exposed skin was available! When I would sit at my computer desk, Snoopy would get up on his hind feet, put his front feet on my leg and look up until I would scoop him up and hold him or put him on his towel on my desk beside my keyboard. I would study and pet him while he would snooze. He was a great snoozer. You could feel him skootch down flat into his relaxed position, and he would have a nice nap. Thinking about it still makes me smile.
I don't think Snoopy was ever sick until a few days before he died. I had brought him over to my parents' house for the long weekend. I was flying to Victoria to visit Gord for an extended long weekend. For a couple of days before the weekend I had noticed that he had been eating a less and his fur was fluffed up and he was a bit less active than usual. But I didn't think anything of it, even though he had never acted like that before. When I said goodbye to Snoopy before leaving for the airport I asked my mom and dad to take him to the vet if he seemed to get worse, but I really wasn't concerned. I flew to Victoria. Two days later day my dad phoned me and told me that Snoopy had died overnight. I was stunned. I asked them to take his little body to the vet to be cremated, which they did.
I never got to say a proper goodbye to my Snoopy. When I got back to Alberta there was just his empty cage. It didn't seem real that he was gone. He was my friend. I loved him dearly, but my ignorance, arrogance and dismissive attitude shortened his life. I am grateful for the 5 years I had Snoopy in my life, but if only I knew then what I have since learned from everyone at GuineaLynx.
Never again will a pig in my care be treated to anything less than the best care I can provide.