My only experience with guinea pigs as a child was to have one, belonging to my cousin, run up my trouser leg. Lucy Pig didn't have a reverse gear, so I had to take off my jeans to get her out.
A couple years ago, a neighbour asked me to make a guinea pig birthday cake as her daughter got piggies for her birthday. She had a grey one and a red one. I thought the ginger colour would be easier to work with and make appealing, so here's William.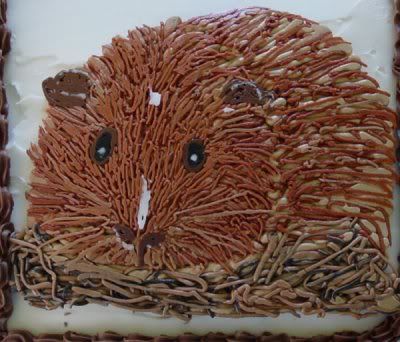 When William died shortly after purchase, he was replaced with Sid, the pink-eyed white.
In the spring on 2006, this family was busily finalising the details for emigrating to France. One day the conversation turned to what was going to happen to the guinea pigs. They hadn't found anyone to take them, so the piggies were going to live with grandma. But grandma didn't like rodents. (In a conversation I had with her, she shuddered when speaking of taking them out of their hutch to clean it. She said she couldn't stand the way they felt.) My neighbour was afraid that once they were out of the country, the pigs would be put down.
I simply could not leave them to go to a home where they would be ignored and resented. I knew they would be neglected at best. Now, my daughter had been asking for a pet, and guinea pigs were one she wanted, so I asked my husband, and he agreed that we would adopt them. My intent was to see that they were kept safe and healthy. I thought we would keep them until they died and be done with it. They were about 3 years old; they live about 6; and we had 3 years left on our contract. Perfect.
I was assured they were 'so easy to care for.' She told me to change out their bedding once a week and give them some greens a couple of times a week, and in the winter, they just needed some extra hay to keep warm. Of course, feed and water them daily.
They arrived on 12 April with a hutch, enclosed run, about a week's worth of food, a sack of hay, and green water. They were beautiful and I knew I was dangerously smitten.
So here is Maise: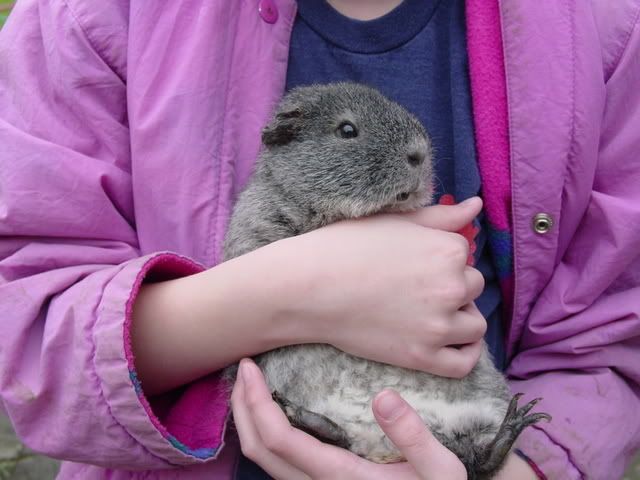 And here is Sid: