I had originally intended writing about Sparky and some of her little stories but since she passed away and reached the grand old age of 7 years there was too much to tell and it brought back too many memories.
Instead I thought I'd start this thread on my newest little arrival so that her story starts at the beginning and those people who helped rescue her can keep up with her antics. So in true story telling fashion...
Once upon a time...
there was a cat who was found playing with something small and furry near a back garden. This small and furry creature turned out to be a baby guinea pig and sadly was not that furry after all. The baby had not been injured by the cat and luckily, was found by a cavy savvy owner. On further investigation it turned out to be an allotment where the cat had found the baby piggy where several dilapidated hutches and a shed were being used to breed guinea pigs and rabbits in some pretty dire conditions. Taking a closer look, our rescuer found a small group of very young pups huddled under a hutch where they had obviously escaped from, or fallen out of.
Grabbing what she could and stuffing pups into pockets, she also grabbed a nursing sow from one of the hutches and left. After phoning the SPCA, it was down to caring for the 6 youngsters and mum. They were all very thin and underweight and some had hairloss likely due to mites and their poor condition. Some of the pups also had extra toes.
After much TLC and supplementary handfeeding, as poor mum was not in a great condition to feed all the pups herself, they seemed to thrive.
One of these small sow pups was to eventually come home with me and was named after the Beatrix Potter hedgehog - Mrs Tiggy-Winkle as her back end had black and brown hair standing up in all directions.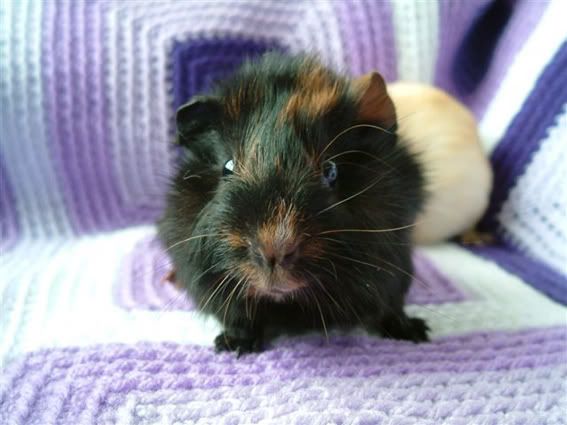 Called Tiggy for short, this is the first pic I was sent of her at a few days old with a rescued sibling in the background.