Oh yes, his usual good humour soon returned. He's proven himself to be a bit of a piggy bright spark recently too. Stephen gets there in the end with the Teach 'n' Treat but it's a scattershot approach, Robert actually shows a bit of a grasp of cause and effect in the way he noses the disc around. I also tried him with a treat/pellet dispensing ball for bunnies that I've had for a while. Neither Stephen nor Alan ever caught on to the concept so it's been gathering dust. Bobsicle got it right away and happily nosed it round the cage for ages to get pellets. He's a smart little cookie. Though Stephen wandered along behind him and snaffled all the pellets Bobs missed in his happy rompings so it's debatable who is actually cleverer.
Since Robert's New Year bath, a strangeness has come over him. His hair is growing
down the way
with minimal up-sticking!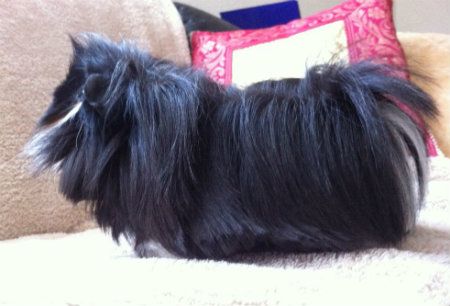 (His head is to the left!)
Who would have thought? I prefer him with short crazy hair - as well as suiting his character better it's much more fun to pet - but it's keeping him extra cosy for now. He's like a little hot water bottle.
His pretty kissy face.