As Told By Maggie – The Story of a Crazy Mommy
My mommy is a crazy, CRAZY lady. It all started with me, I was just too adorable to resist! Well, at least I was much cuter than a pair of African Dwarf Frogs.
Can you believe she almost got these over my beautiful little face?
Well I suppose that was because she hadn't met me yet. In fact, mommy was one of those little girls obsessed with guinea pigs. She begged Grandma for one of us for years. She even spent her book fair money on a guinea pig book one year, but grandma always said no. Well little did grandma know that Mommies wheels turned in her head when she caught wind that she could FINALLY have a pet of her own. And when Mommies wheels turn, watch out!
You see, a Meditating African Dwarf Frog turned into a hamster. Then after a lot of debate, well, a hamster magically turned into me. Something the size of a quarter turned into a ginormous piggy paradise, slowly, of course, so as not to alarm the grandparents TOO much. (Although, you should have seen Grandma's face when she came home from work to find me!)

Secretly we both knew I had won the heart of everyone in the house with my good looks and innocent eyes. Did I ever mention I am a master of manipulation? They had no idea what they were getting into! Especially Daddy, but that is a story for another day!
So mommy took the last of her graduation money and went to the pet store. She got everything the lady told her and didn't scrimp on cage size. Mommy bought me the biggest, prettiest cage she could find. Mommy blew thought that graduation money like there was no tomorrow but I wasn't going to complain. Her baby had to be spoiled!
Sometimes Mommy got nervous, I could tell, she had no idea I would cost so much, and art majors weren't swimming in employment opportunities. However, her love for me shown with flying colors as she searched for a job and soon after became a substitute teacher. Poor Mommy, even I know there are better jobs in the world than that!
As mommy learned to take care of me she learned some more things. Suddenly my giant pet store cage became a shoe box.
Mommy enlisted the help of Daddy, and a fresh pay check, and off they went to find me some grids and coroplast!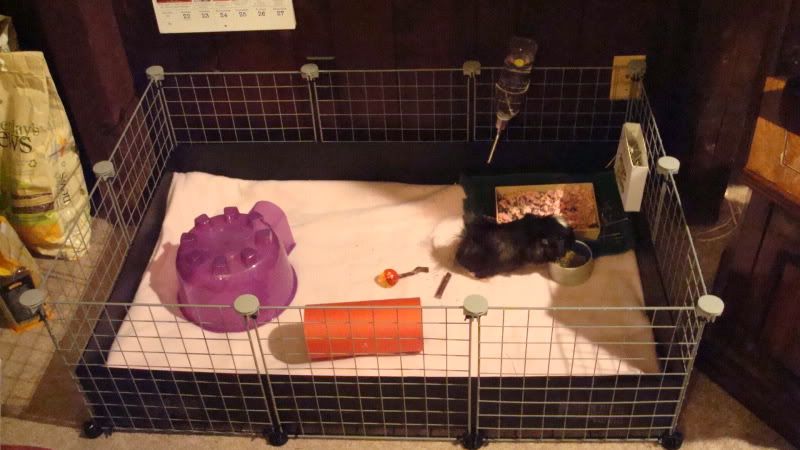 I was the happiest piggy ever in my new 2x3 cage! As usual Grandma came home from work to find that more of her house has disappeared to my cute little wobbly booty. Mommy knew deep down inside she wanted to make a ramp and a second level but grandma's face had her worried so she gave it some time.
Of course, Mommy is kind of like me, when she wants something bad enough she finds a way. A couple weeks later, Mommy found a way to get Grandma excited about a second level! Thanks Guinea Pig Cages! And sure enough, along comes Daddy and tada! A second level!
I loved my new space! I developed the BEST routine ever! When Mommy came in the room I would wheek. When Mommy gave me food and pellets I would wheek. When the fridge opened I would wheek. When it was about darn time Mommy woke up to feed me already I would wheek until my little lungs gave out! My absolute FAVORITE place to wheek at my humans was perched at the top of my ramp.
From there I felt like the queen of the world! However, what is a queen when she has no one to rule over? Well, except for Mommy, but she was a given.
I think I demanded too much of my Mommy because one day she put me in this big blue box with a door. I was sure I was going back to the pet store! I was so scared and confused! A while later mommy was pulling me back out of my hiding spot and plop I went into an arena with what at first looked to be a big white furry cantaloupe. MMMmm I love cantaloupe. Speaking of food, I remember then noticing a pile of veggies and, Oh My GOSH! My favorite veggies ever! CARROTS!!!!
Of course you can imagine my surprise as this big white mass moves towards me and my foodies. That's when I saw her big bulgy grey eye looking right at me.
"A FRIEND!" I squealed as I walked up to say hi. I must admit, looking back, my enthusiasm was a bit embarrassing. Most piggies bow in my presence and greatness but this one just seemed aloof to what was going on around her. After a while I decided to try and get some veggies before the vacuum of a piggy I later came to know as Indra ate them all.
The first few days were rough. She simply wanted nothing to do with me and was afraid of EVERYTHING! I tried to tame her into submission with my cuddly antics, nosy sniffing and flying pee bombs but she staked out her corner and claimed it for her own.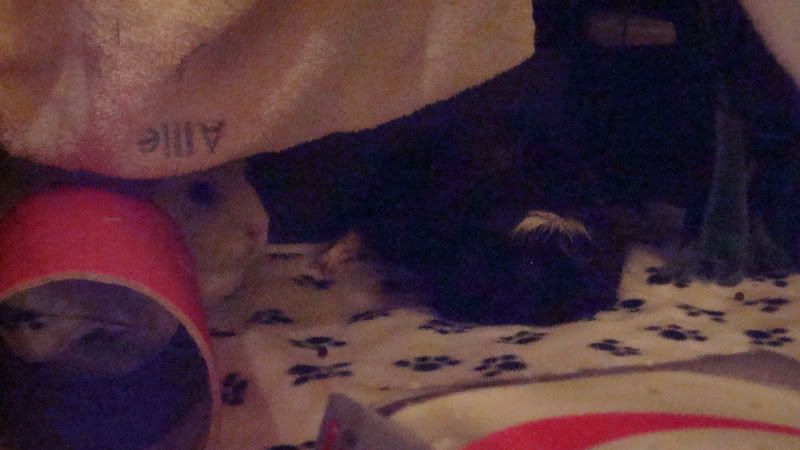 I tried and tried to sneak in for a cuddle but Indra never gave in! >:(
That was when it happened. Mommy! Mommy!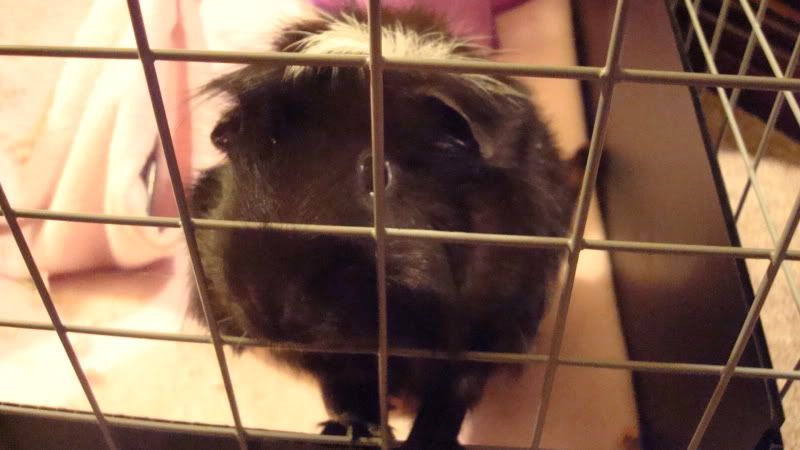 I ran to her when she came home for attention, my hair in a clump on the cage floor. My BEAUTIFUL hair! How could she! "Mommy!" I cried with my pretty eyes as mommy lifted me out of my cage, "See what that mean lady did to me?!?!" Mommy about had a heart attack when she saw the clump of hair missing from my otherwise perfect rosette.
"What did you do to her?!?" Mommy asked me in an accusing tone. Me? Me?!?!? "It was all her!" I tried to explain but who was I kidding, Mommy doesn't speak piggy! Mommy freaked out and asked lots of piggy people for advice. They all told her it would be fine and she trusted them. Come to find out eventually Indra came to terms with my greatness and learned her place in the world with all the other less talented, beautiful and smart piggies out there.
…. Even if it did take some torture from Mommy and the "swimming pool".
We still fight every now and then but ANYTHING is more tolerable than reliving THAT experience!
So there we were two guinea pigs in a life of luxury. We had one amazing full time Mommy and a cuddly and loving part time Daddy to love us and attend to our every need. Although sometimes excessive, like that time Mommy took me to the evil man with all the scary objects because I had bald spots behind my ears (come on Mommy, really?!?!) I knew we were in good hands.
Mommy tells me I talk too much and that I should use my vocal energy for something useful. So check back soon because there is much more to tell, but it is time for Mommy to go back to work!