Are you even serious?
We made it Volume 8???
Number EIGHT is a lucky number in Chinese custom, so I am hoping this thread will be filled with many happy days and delightful tales.
Instead of doing another recap, which we have done …
counting me fingers
SEVEN times... :p
We are just going to end it with a
VIDEO.
I admit I have not been the same since Beibei passed.
There is a part of me that felt hollowed out, an uneasiness that is too raw to be talked about or disturbed.
That day, when I was coming home, I kept fumbling for my phone, I wanted Sue to come, I am not sure I want to see Emma or Bernie when I get home.....
I felt with Beibei's passing, I have lost my entire herd in a single day.
None of my original piggies are here anymore, and Bernie and Emma are... are... "wannabe's".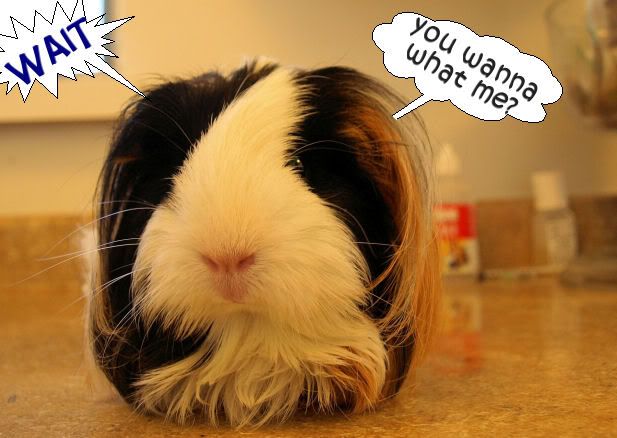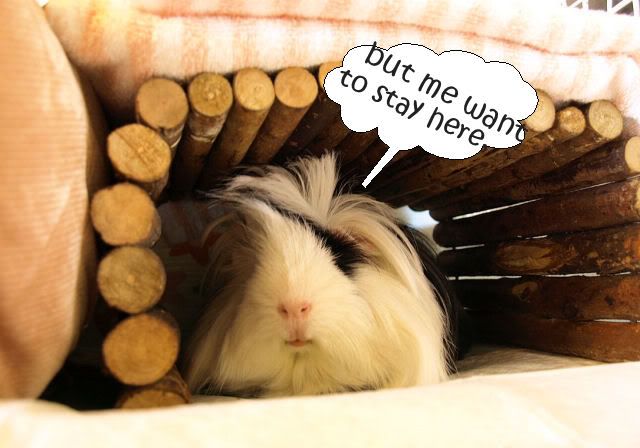 the only reason I never made that call was because I was shaking so bad and kept dropping the phone.
Then when we got home, uh... "someone" hid my phone.
For a few weeks, I went through the motion of "keeping guinea pigs".
I clean out their cage, feed them, groom them just as always, but there was something missing, ..
my heart was not in it, my face was blank and my heart was empty.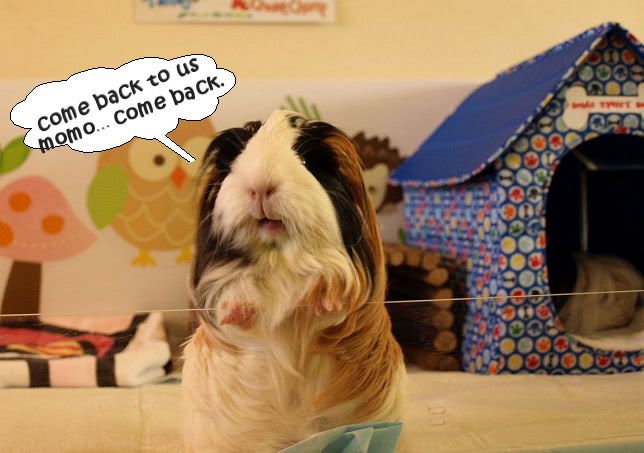 It was a sad sight for all see, even got a little too much for Buji, so he gave ma a "guinea pig vacation" where he would take over caring for the pigs, and I can come back anytime once I am ready.
However, little did we expect, Buji and McChompChomp bonded like never before.
Buji was always there to give a quick pat, throw in a sprig of yumyums and intervene before McChompChomp goes for McBernie's jugular.
So little by little, Buji has won over her heart and she would always follow him around the cage whenever he is fussing with them.
I was still sulking when Buji surprised me with a impromptu camping trip, as cold as it sounds, I was glad to be away from the McHairy Duo.
That age old saying caught me off guard,
"absence makes the heart grow fonder",...
By the first night, I was almost going crazy because I couldn't get a signal on my cell phone at the campground to call the pig sitter.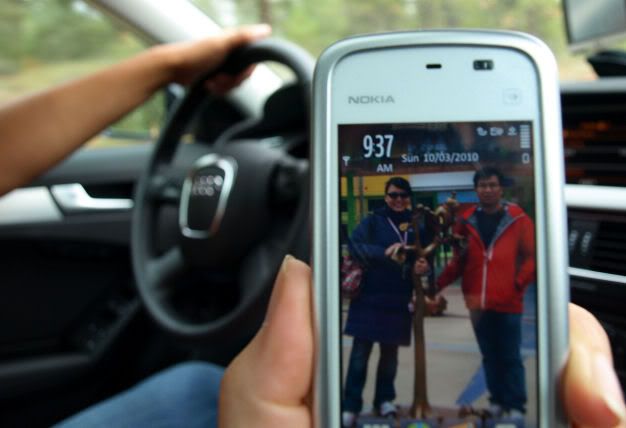 What is Bernie is slow in coming out to get his food, will the the sitter wait for him?
What if Emma back on chewing Bernie's feetsies, will the sitter know to check for it?
What if it gets cold at night, will the sitter remember to throw in the extra towels by the cage?
Then I knew... the minute I stated to fret over the no-signal sign...
Emma and Bernie, they have long been my pigs, I was just to stubborn to admit it... :)
*lookit the face on McChompChomp, as if putting up with McBernie SquareBangs is just a chore!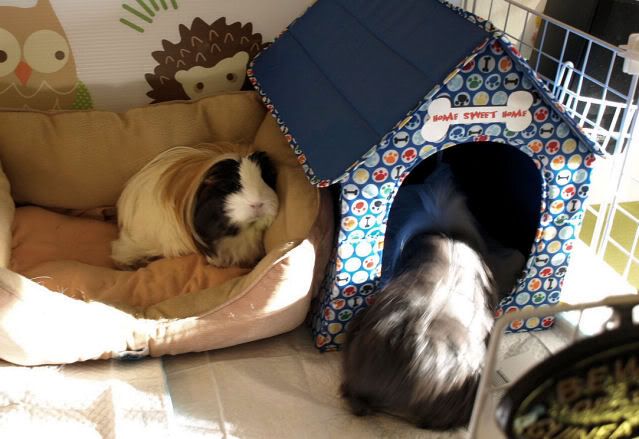 Our lives continue to be amused by the McHairy Duo and our friends' endless generosity and kindness. Lookit, even Mojo (well, Eschimpt's Mojo) sent Emma a card.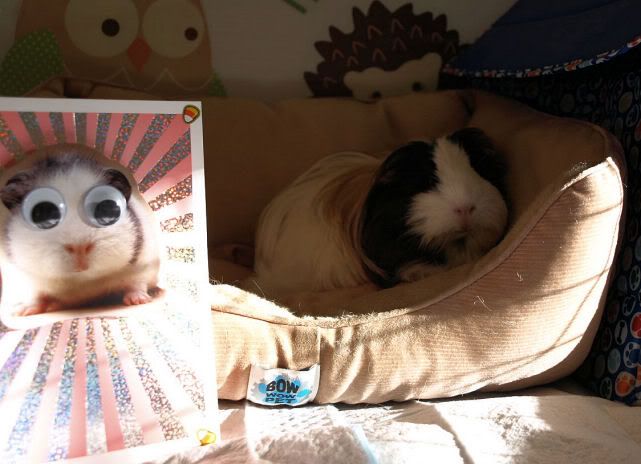 And momo also continue to be dabbling in things where she isn't really suited, such as this cross stittch project...
I am now officially crossed eyed... :(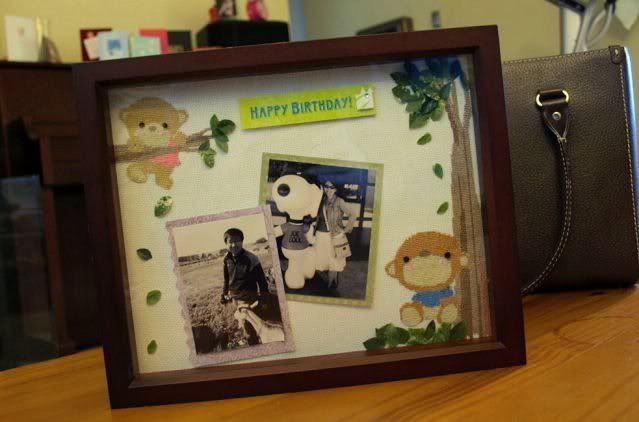 Emma spends her busy days
(that woman ain't never idle)
turning her cage upside down and perfecting her ambush attack skills. That a stealthy pig!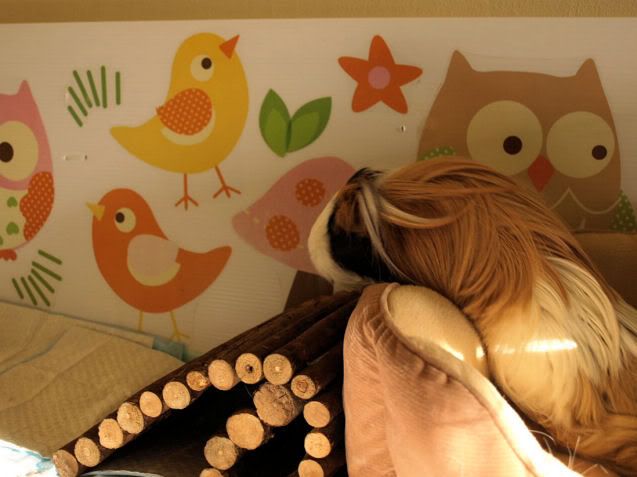 Being a woman who is confident and fearless, whenever hay can't come to her quick enough, she goes to the hay.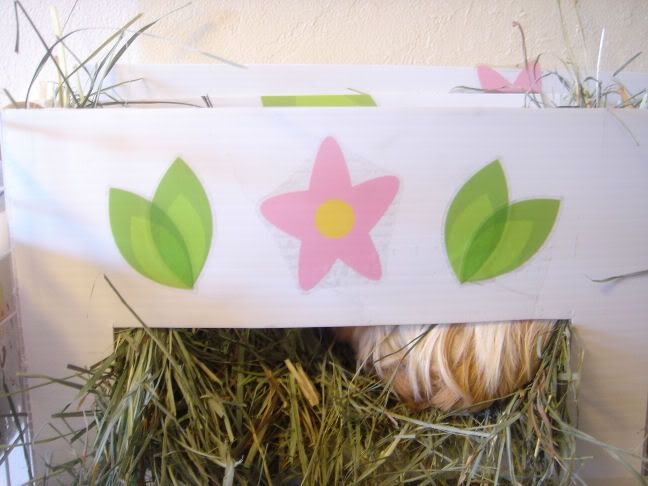 And of course same applies to … dinner.
However, our McBernie has been showing obvious signs of his budding... *speicalness*
I hope you will take a few minutes to watch this
VIDEO
, a journey through our years made of all the wonderful and joyous days of having each and every one of our piggies.
Enjoy, while our McHairy Duo goes back to their hard lives,... -
The hunter and the hunted!
I still cannot believe we have filled so many pages with our stories and pictures...!
Through the years, I felt we have become more than guinea pig friends, almost like a family who genuinely cares for each other...
Thank you my friends, thank you for walking along with us on the good days, and ... especially on the bad days. :)
momo lurves y'all!
In case anyone wants a complete do-over of the past Wheekly Tales!
Volume 1!
Volume 2!
Volume 3!
Volume 4!
Volume 5!
Volume 6!
Volume 7!