Awhile back I started a journal for my cavies, but when we experienced our first loss of a cavy, an elderly girl we rescued who came to us with many health problems (a large and long-infected abscess, gas buildup/bloat, bladder stones) whom we fought so hard to save, I found it difficult to keep writing on it. But now I think it may actually help to focus on the cavies that are still with us. Later, after my heart heals some more from our most recent goodbye, I will dedicate a section to the ones who have passed because they deserve to be in this Chronicle as well.
Without further ado, here is the current cavy clan (listed in order of when we adopted/took them in).
Cinnabun, our first cavy. We adopted her from the Oregon shelter when we found out the rats they had listed on Petfinder had already been adopted (my fiance had been wanting a pair of female rats). I sat on a chair while waiting for them to see if they had any that hadn't been put out in their adoption cages yet, and a little animal poked her face out at me through the bars squeaking happily. We read how she had been dumped by someone who's child lost interest in her after having had her since birth then for the next three years. We fell in love immediately, and she started us on cavies. Cinnabun loves people, always giving kisses/grooming us.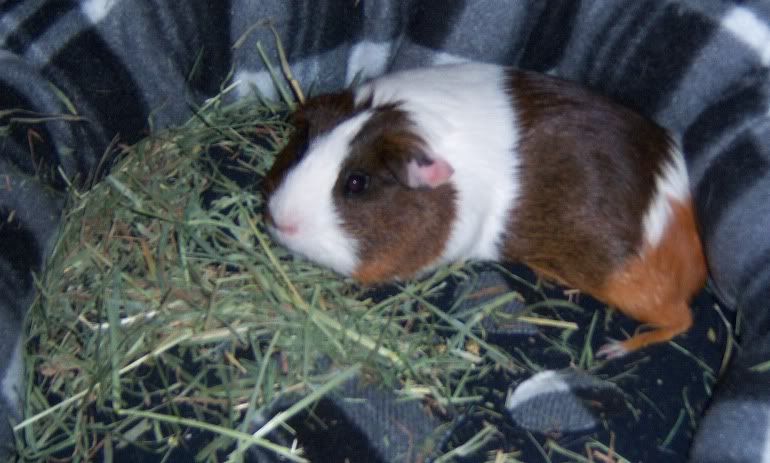 Alistair, our first boar. I wasn't looking to get any more cavies but I found out about Alistair, who's petfinder picture made him look like he was on death's door. He looked so sad so we went to Oregon again to check him out. As it turned out, Alistair had come in with his brother who was adopted without him because he (Alistair) "wasn't very cute" according to a shelter staff member since he'd come in with very severe mites. He is extremely mellow and the worst I've seen him do is rumble at another cavy, he rarely is the first to rumble and tries to avoid conflict. He just adores my fiance, but seems to like me too because he will happy squeak for me when I talk to him while petting him.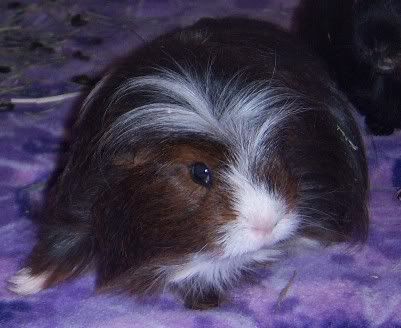 James was our first special needs cavy. He was dumped at the same shelter by a crappy breeder who dumped a lot of sick, genetically unsound, a few middle aged, and an elderly cavy on the Oregon shelter/humane society. He wasn't fed vegetables or much hay except limited alfalfa and has impaction issues. He is still quite shy but will make happy squeaks while being petted if he can be hidden under some fleece; we try not to over handle him since he still shakes fearfully when being petted sometimes.
Phantom
We found Phantom via a Craigslist ad. He was purchased by someone else for the former mom's child at the nearest Pet"Smart" but the child lost interest and the mom who worked full time didn't feel he was getting enough attention or out of cage time, with an hour a day of floor time after work. She followed Pet"smart" 's advice and fed him NutriPhase pellets, alfalfa, and kept him in an aquarium (it looked to be about a 15 gallon). The Pet"smart" had also told her Phantom was female (surprise, surprise). She did give him a wide variety of good leafy greens and other vegetables though, and was really wanting him to get a good home. Phantom is adventurous and seems very happy, he is very vocal about his happiness going around the cage squeaking/"clucking" happily as I clean the cage, put in fresh hay/pellets, or as he's pushing hay dishes around.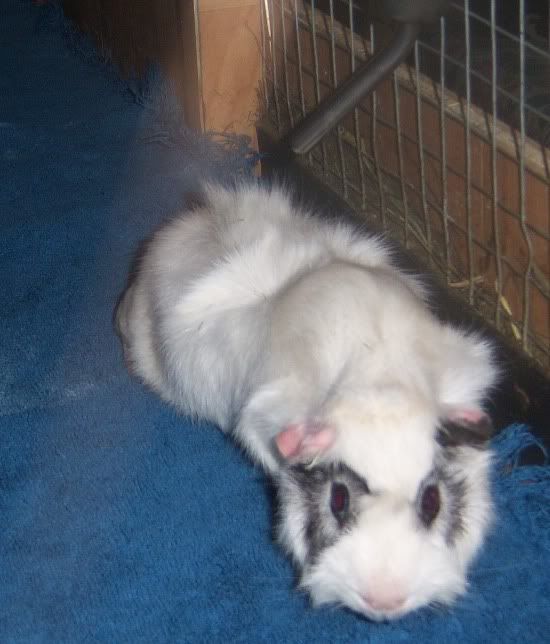 Luna is the cavy I was given as a birthday present. She came to me tiny and afraid of most everything. With time and a cagemate she became less afraid. She was an extremely active baby and pubescent cavy, doing zoomies around the cage, following her friend all over, pop corning around. Although we tried she never seemed to enjoy floor time (just ran and hid). As adult she has become quite lazy but has no symptoms of heart problems. She will occasionally do zoomies through and around the hiding box, especially after I take it out for awhile to clean then put it back in. Like Phantom, she also likes to go around making happy squeaks and "clucks" while I'm cleaning her cage, getting her more hay or some pellets (which are limited for her because she needs to lose some weight), and around the hiding box.
Tiny baby Luna (fiance holding her and while he does have large guy hands, she was still very small)
Big beefy adult Luna