Well, aren't we a bunch of compassionate peoples on GL!
I think the saddest part was when he fell and rolled, our guide threw the camera back to me
(I was laughing and clapping in the video)
,
rushed up the hill,... to see if his ATV was okay!?!
I have no idea why Ben thinks I am constantly thinking of ways to kill him...
So,.. paranoid! :p
Anyhoo... aboot me trip....
The funny stuff okay?
The highlight of course was the ATV adventure in the dessert...
It is actually more scary and tiring then I had imagined..
Lookit momo, all ninja like!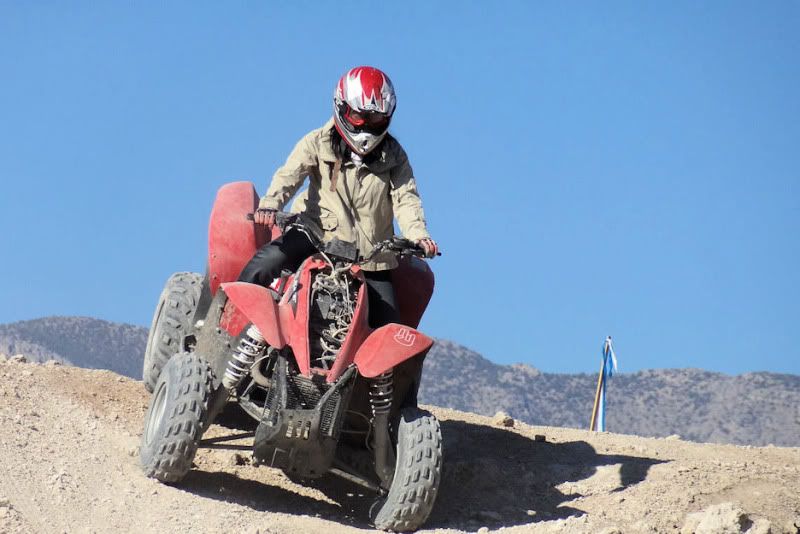 Then we drove over to Hoover Dam, Arizona and Grand Canyon.
Your truly momo was dangling her chubby legs off the cliffs and having fun...
Benben would again NOT stand on the ledge of the canyon unless he was holding onto me...
Great, if he topples, he was gonna take me with him,..?
Then I surprised Benben with a trip to Las Vegas Motor Speedway,...
He thought we were there for a "tour",...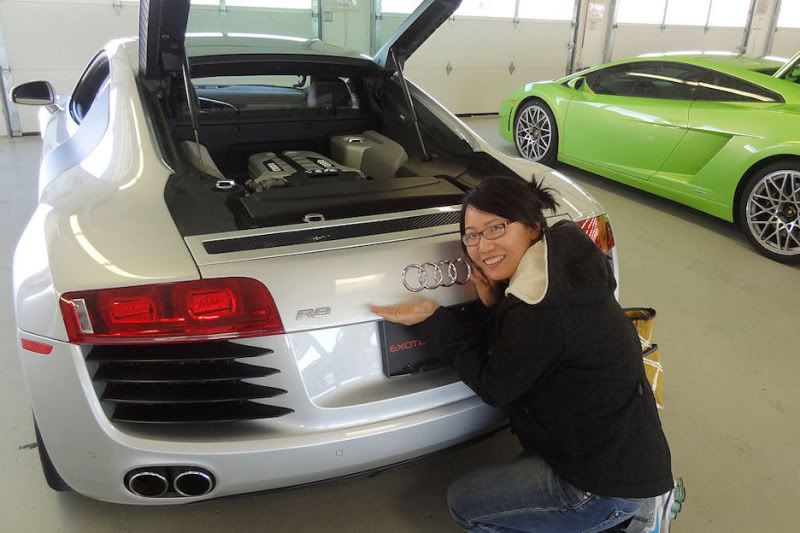 Then, after he signed the waivers and went around hyperventilating them cars, he found out he was actually there to drive and race them!
This was the very second he was told of the surprise,....
This was him after he finished the race, he came in first... :p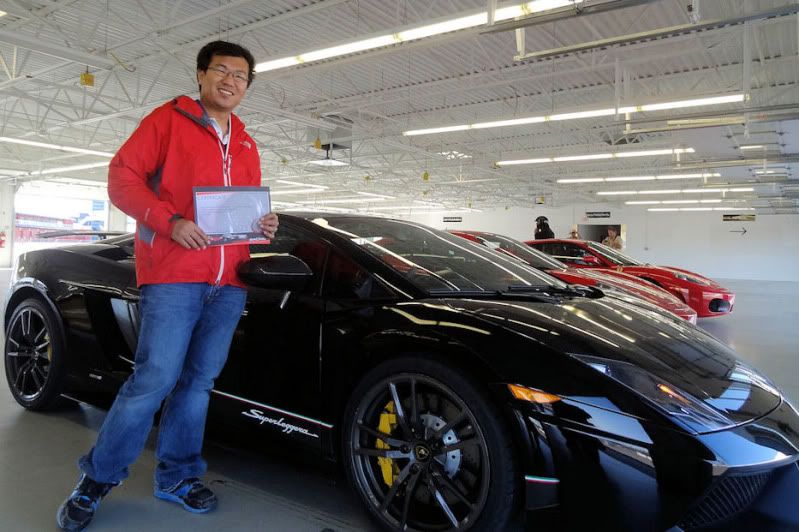 In the video, you would see him like an 8 year old kid bragging aboot the drive as soon as he stepped out of the car.
By the way, I got to meet the real Gallardo, Scuderia and Superleggera. :)
Momo felt like the STIG!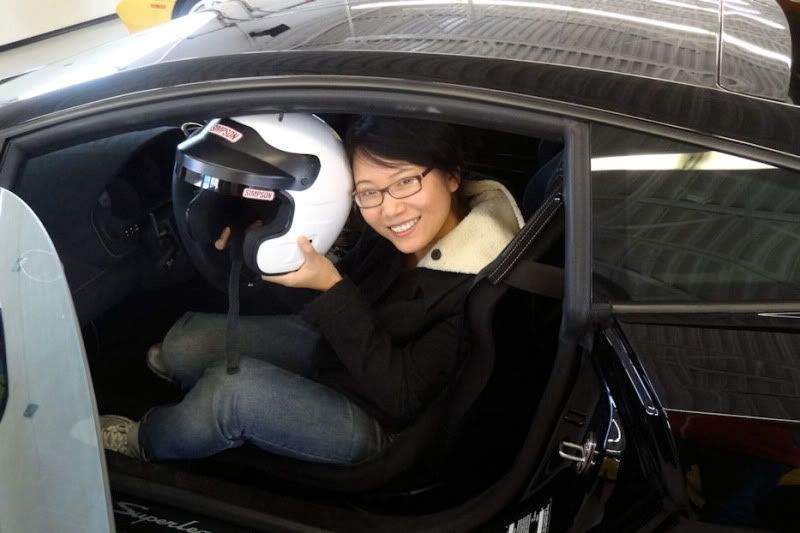 We also got to watch Phantom Of the Opera there, it was lovely..
But I imagined my Phantom to be tall and buff, you know, to guide and guard his Christine,..
But ,.. he was shorter than Christine.. :(
We also went to Titanic Exhibit
To quote my dad,
The boat has sunk, the people has died... wad wad wad is there to see...?
Well, a lot!
They recreated the entire grand staircase, first class cabins, dining hall and the outside deck.
You are handed a "boarding pass" when you first go in, I was too busy to look around the exhibit to pay any attention to my pass.
It is like you are on Titanic the day before it sank, you see the glasses and plates of the dining rooms, you see the gloves, pants and hats of the passengers.
You read their stories, which eerily, many of them weren't even supposed to be on the Titanic if not because of the Coal Strike in Europe back then...
No pictures were allowed, so I don't have any.
At the very end of the tour, you come across the Big Piece, from the hull of the ship that was retrieved in 2008.
Along its side, a complete passenger list, and that is where you
match your boarding pass to the list to see if you survived...
I did, but sorry to say for Benben, he went kaput...
But, it was upon a closer look, I saw this...
I, Mrs Baxter was a first class passenger...
but,..
lookit the reason why I made the trip...
!!
I also got to shoot a handgun and a Hello Kitty AK 47 on this trip.
I wanted to do this for a while, wishing I could understand why people are so insistent and protective of their right to bear arms.
I still don't..
BUT... I did walk away with a newfound respect for firearms.
They are such powerful weapons, I felt my whole body shook as I fired. I can't imagine what kind of impact that would make on the other side of the barrel.
Honestly, other than mealtimes, I don't even trust myself with a pair of chopsticks, so I believe the world would truly be a safer place if I no hold no guns! :P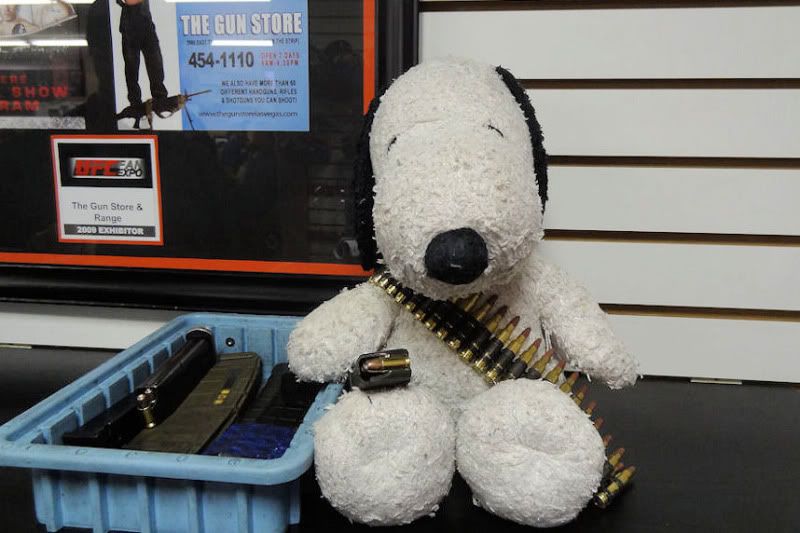 Now,... a few serious notes...
Ben got a promotion just 2 weeks before this trip, and he is busier than ever...
He woke up everyday at 5am to work, then wake me up at 7 to enjoy our days... :(
I no think they understand he is on vacation, on momo time..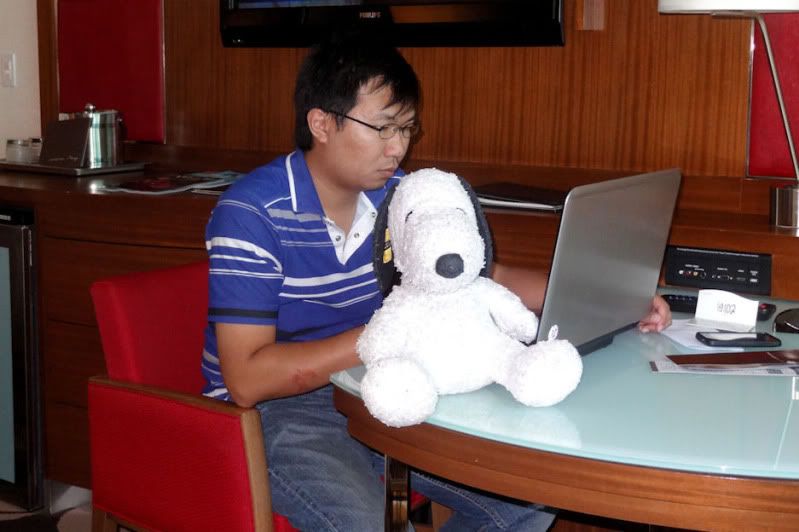 I wanted to grab his phone and smash it so many times!
Secondly, I got to see how bad the economy was in Vegas...
I saw many people panhandling with their pets, mainly dogs and a lady with her rabbit. I gave a older gentleman $5, but I can't help feeling that he might have bought a beer with that rather than to feed his dog,..
Many of you might know that I coupon, and i have a whole section of dog food coupons. I finally got to use ALL my dog food coupons!
We bought 17 bags of dogfood and gave them out instead.
There were many many young ladies, some of them as young as 18, panhandling with babies on their backs.. broke my heart...
Uh,.. okay okay, moving on...
It was a 6 day trip, we really meesed our Emma.
This was the first night when we came home, Emma would rather cuddle with Benben than to go back to her cage and eat at 9pm.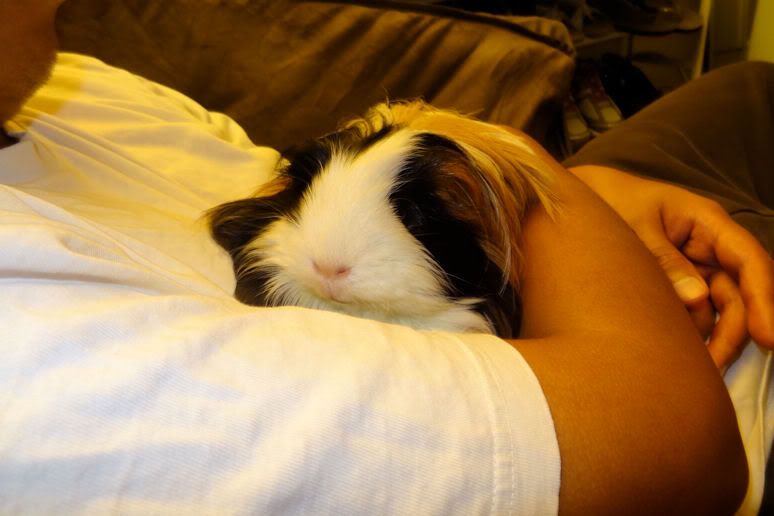 When I offered to take her so Benben could eat, she bit me...
*not jellies, not jellies*
It is okay, I got me boys...
Now, so wad are we all waiting for again???
Oh... the video!
Yes yes yes,
here it is..
I must warn you.... it is 12 mins long.
I promise you it is one comedic act after another, all at Benben's expense.
Can I get a round of applause for his entertainment value?
If you simply can't wait, just go ahead and fast forward to the 3:00 and start there and ... wait for it peoples... wait for it!
I hope you will all enjoy the video, as usual, yours truly momo arranged it with a piece of a great music, WilliamTell Overturn by Rossini. :)
Turn up your volume, wait for it to load, and ENJOY!
Since now we have video powahs again, would anyone like to see a video of our piggies???
no???