Hello all! I'm sorry if the title of this chronicle doesn't quite make sense. Hopefully it will soon enough!
Here's our story:
After I lost my Peruvian, Pedro, I thought I would take a break from pigs for a bit. I had Pedro for 7 and a half years, and when I lost him I had a very hard time living without a piggie friend.
After 3 weeks without having a pig, I decided that I couldn't be without. I soon started the search for a pig(s) in need of a home.
I live in a small city. The Humane Society here only deals with cats and dogs. The Human Society in the next city over sometimes has small animals, but they usually get adopted quickly. Two years ago a young girl started a small animal resuce that she runs out of her own house. I often go on her website and contacted her a few times about guinea pigs. She rarely has any, but I asked her if she would contact me if she gets any in. I also decided to put an ad out on a website for any guinea pigs that need to be rehomed.
A few days after putting my ad up, I got an email! A lady had a little sow that her son became allergic to. She had to rehome it, but wanted to make sure the sow went to a good home. After exchanging emails for a few days and sharing my past experience with piggie ownership, I decided that I was going to adopt this little girl. I hadn't even seen a picture of her, but the next day I set out to go get her.
She was about a 45 minute drive from me. When I got to the house to pick her up, she was waiting for me in a little cardboard box with newspaper in the bottom. The previous owner let me take her for free, with her dishes and food.
The poor girl wasn't given any hay. She had a wood log to chew on, and that's all. She had Walmart pellets and some kind of tutti frutti treats. I chucked everything she came with. I had a lovely C&C cage, Oxbow hay and pellets, and nice new cozies and toys for her waiting back home.
On the car ride home, my mother and I were talking about names. She was named Sally, but I wanted to give her a new name for her new start on life. I always thought the name Penelope was cute. It suited her perfectly. I now had my little Penny pig to keep me company.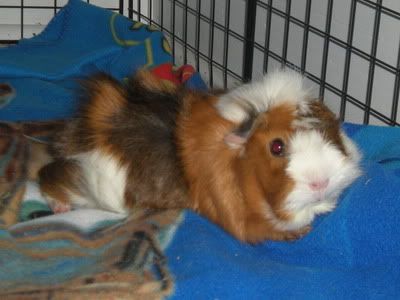 I hope you all liked the first part of our chronicle! Stay tuned for more to come!!