...When the Queen Pig found her palace.
But first, let's rewind to where the story
really
starts.
Picture a smiling young girl besides her parents, carrying a covered cardboard box, shielded from the cold winter air. Now, picture a tiny, white guinea pig with a brown patch over one eye and a brown butt inside of that cardboard box.
That is where the story begins.
Years ago, I achieved the blessing of having my very first guinea pig. He was kept on pine or cedar shavings, and he lived in a small pet store cage, but I know he was happy. It hurts to recall how I treated that guinea pig at times, but I have to remember, and I hope you keep in mind, too- I was only a small child with a pet. I did not know anything except what I was told.
His name was Stewart. The day I brought the little guy home, I decided his name was going to be Patch, and I believe I changed his name once more, too, but within a few months he had acquired the name of Stewart (inspired by no other than Stuart Little), and that name stuck.
Stewart grew very, very fast. Soon, he was a big, chubby fall of fur. I loved him.
Soon, we had six guinea pigs at once: Stewart, Cocoa (or "Teddy"), Clyde, George, Pookie, and Carl.
Eventually, all of the guinea pigs fell ill and passed apart from Stewart. He stayed with me for eight years. When he died, I was heart broken, and even after all these years, I still am sad.
Now, we're going to fast forward time.
It all started on a warm summer day...
July 16th, 2011.
After months upon months of research, the day had come that I was going to get another guinea pig.
Nikki was brought home as an ill, fragile little pig.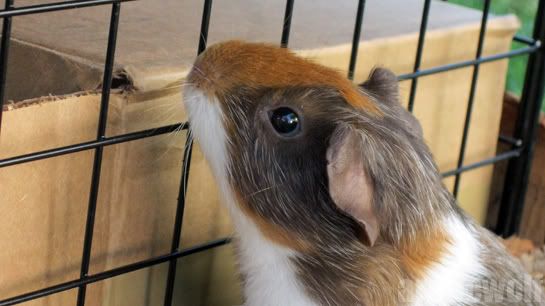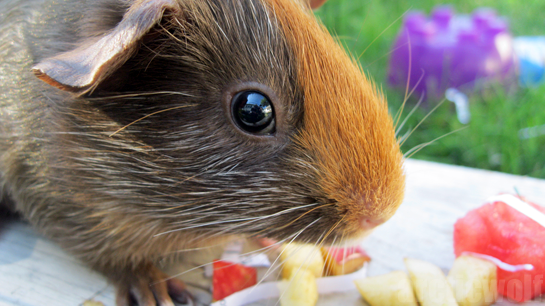 But they grow up fast, don't they?