I wanted to share the most recent weight chart of the other other pigs that came in with Fuzzy Lumpkins and Kirk.
Rebecca is definitely pregnant. But, I thought looking at this weight chart was interesting because Hawk is the baby boy, Poppyseed and Pattycake are the baby girls, and Rebecca was a slightly older than them but still young girl who came in (same size as Little Patricia who did not make it)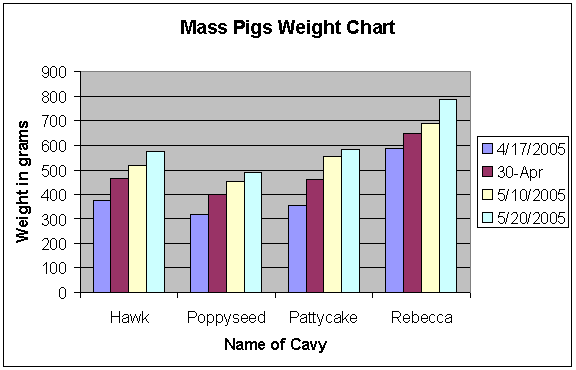 What I thought was interesting was the relatively slow weight gain and then the jumps in weight towards the end.
I can feel that Rebecca is pregnant, so far I am not feeling anything in the other two, younger girls, and their weight gains are similar in pattern to Hawk's. so hopefully they are not pregnant . . .
~~~~~~~
Michelle - I think I got your emails? The last one I got from you was about Porter and Chester . . .