I've read over the eye page but I'd appreciate any insight. I'm thinking it's Inflamed Conjunctiva? This is what Gracie's eye looks like right now: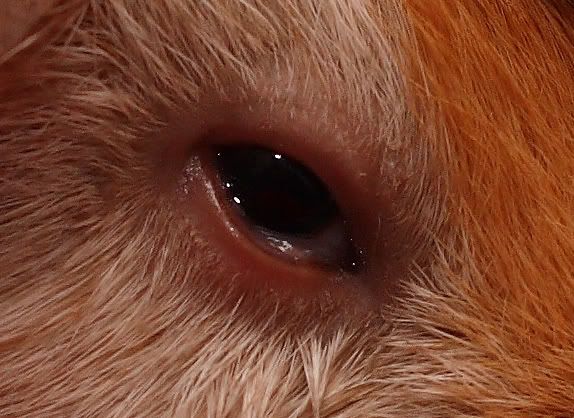 Also pics
here
, and
here
. I couldn't get her to fully open her eye at all :/
She's holding it shut as much as she can:
This has come on literally overnight. She's hardly opening it at all and seems to be causing quite a lot of discomfort even without touching her eye as she was extremely clingy when I had her out for a closer look, most unlike her and while she will run off in her pen she does seem more reluctant to move. Her other eye is completely normal.
She has always had a tendency to want shut this eye a little more than the other though nothing was ever found to be wrong with the eye at all. Never has it looked gungy, inflamed and sore like this though.
We're getting ready to take her to the emergency vets. I have never dealt with an eye problem before and I really want to know what this is if possible before getting there in case it is a lesser vet on duty.
Gracie is a pet shop pig, I know nothing of her medical past before we got her (at a young age) other than that she may be related to Rosie (a heart pig). She has had no health problems to date. She has no other symptoms that I can see and her weight has not changed.
What would you suggest this is, and what method of treatment?