Hi Everyone,
I was watching Milo (my neutered boar) run around during floor time last night and noticed that he seems to be in an ..um... "aroused" state and still is this morning. I didn´t really think anything of it until I came across this info posted on Peter Gurney´s Health Guide (
Protruding Penis
) and now I am quite concerned.
I looked at the sexing pictures on Teresa´s site and this is what he looks like, without have to press his genital area: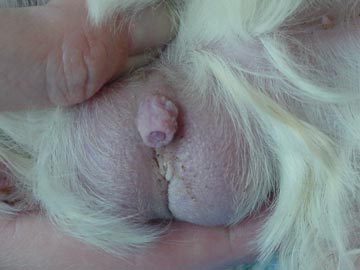 His penis is not retracting and does look a bit on the dry side. I don´t see a "ring of semen" as PG describes so I´m not really sure what to do. Milo doesn´t seem to be showing signs of being in pain, but he is biting me now while I´m holding him in my lap. Is it time for a trip to the vet?
Thanks for you help.