I love all your cages! I especially like the designs by Lindsay and Pookee. Thta's what I would want for my 2 guinea pigs as well.
The problem is that we live in a small flat, and have some sort of minimal design thing going on (see picture). It all looks very sleek and tidy. I would love to give our guinea pigs a big C&C cage, but my boyfriend is worried that it would take up too much room and would look too messy. I agree it doesn't really fit in with our decorating style, but I would love to give the guinea pigs a great cage. Does anybody have any ideas on how to make a sleek C&C cage? Pookee's one looks pretty good. I also like the look of 11guineas cages; huge and pretty stylish.
The cage will have to go along the wall on the right hand side of the picture, next to the tv. Ignore the tiny cage that is in the picture. This was the cage that Tommy lived in for the first 3 months of his life, before I knew any better and got him a girlfriend and a bigger cage. We now have a 4 ft long store bought cage. I think it is big enough, but I would love to give them more space.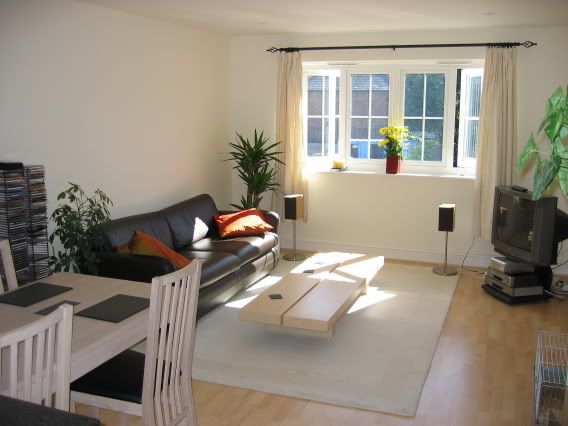 Any ideas for a cage that would fit in well? I was thinking silver (as in unpainted) or black grids might look good. And black choroplast. I am assuming that black choroplast will look cleaner than other colours, but I'm not sure. My only worry is that black choroplast will make the cage look very dark.
Actually, no matter how neat and tidy the cage, the guinea pigs will no doubt make a mess of our living room anyway with wood shavings, poos and hay everywhere. But I just take one look at their cute little faces, and none of that matters any more.