Once you have your towels in you are halfway done. The next step is laying your fleece, but before using new fleece you do have to prep it first so it works correctly. I recommend washing and drying the fleece four to five times to get it whicking properly and easily. If you fail to do this step your fleece will puddle urine and your pigs will get wet. This step is very important.
You want to lay your fleece over the towels and begin stretching it flat by running your hand across the fleece over to the edges. It is very similiar to making a bed or a baby crib.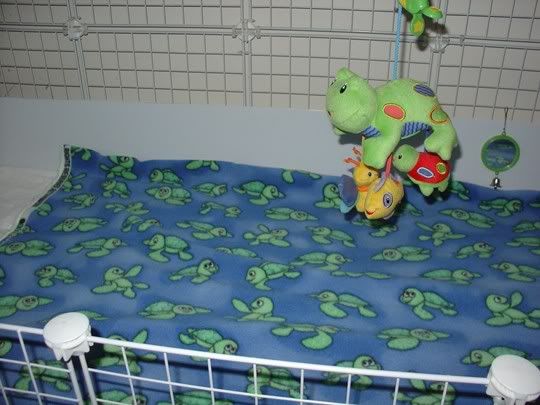 Work all of the wrinkles out of your fleece until your fleece is very flat. The extra edges of the fleece will be up against your coroplast all around the cage. (try to persuad pigs to be patient)
Next you want to tuck the fleece all around the edge. You want to keep running your hand from the middle of the fleece to the edge and than firmly tuck your fleece around your towels. Don't tuck around your newspaper layer, just the towels.
I always do the sides first and than go back and do the ends of the cages.