Three boars, one cage; who will survive?
In the beginning: Kiyoshi
I had just finished my Standard Grade exams and was overdue my "well done" monetary congratulations when I saw the loan boar who would trigger my spiral into Cavy Slavedom. I was one of those idiots who had owned a hamster and guessed that a guinea pig was the same but bigger and the poor pet shop assistant didn't have the guts to tell me otherwise.
After some keen trickery with words and reason my mum and I left the pet shop armed with the necessities for a pet guinea pig, a boxed up new pet and a proud mother who had made her daughter happy. As we discussed how we were going to explain the new mammal to my father I had no idea that what I had just purchased would cause me so much stress and heartbreak in the future.
I named him Kiyoshi, having stolen the name from a RP character I often encountered on an AOL-based RPG chat.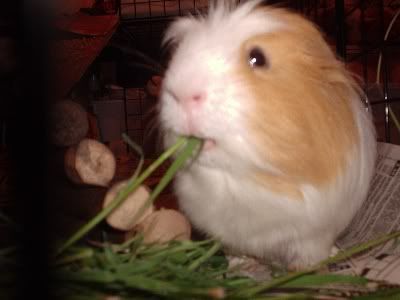 However, as I fell deeply in love with my new squeeky, small and terrified pet I also tumbled into knowledge of guinea pig care. The first knock to my system from the RSPCA Care Guide I had purchased was that pigs were social animals. I felt guilty that my own pig was a lone sailor and my mum and I searched for information that would confirm Kiyoshi would be okay on his own. We failed and it was decided that we would have to find him a friend.
But while we waited to find Kiyoshi's dream companion I continued to get to know my new little friend and pour onto him every rookie mistake I could, all of which he kindly endured and seemed to enjoy.
A friend came in the form of an older boar, Ghost/Snow. Ghost (as I later kept him) was an ex-breeding long haired red eyed boar who had already had a tumble in life who was given to me as he was beginning to pull his hair out from living with his sow (neither were fixed) who had begun to deny him consistently. His baldness was beginning to concern his breeding owner and with a caution Ghost came to live with us... they never were a match made in heaven.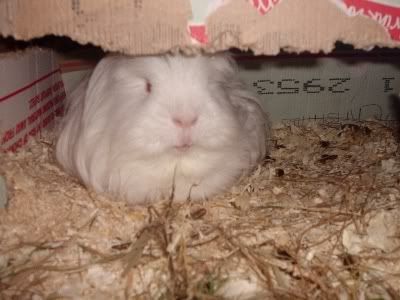 [/u][/b]