Hi everyone. I've been meaning to start my chronicle for ages, but I never got round to it. Seeing that today is the 9th anniversary of losing my first guinea pig, Gordy, I thought this was the perfect day to start. So, here goes!
I have 3 wonderful guinea guys who I'd like to share with you all, but before I get to their stories I think it would be very unfair if I didn't tell you a little about all of the wonderful guinea guys who have graced me with their presence over the years.
I guess I should introduce myself first. My name is Jennifer but please call me Jen. I live in the North East of England, I'm 29 and have been a member of Guinea Lynx since 2006 (I think). So, that's the boring bit done with.
So, as the title says, it all started with Gordy. Well, that's a little bit of a lie actually.
Ever since I was a little girl I've loved animals, as you can see by this embarrassing photo of me getting overexcited about feeding a goat: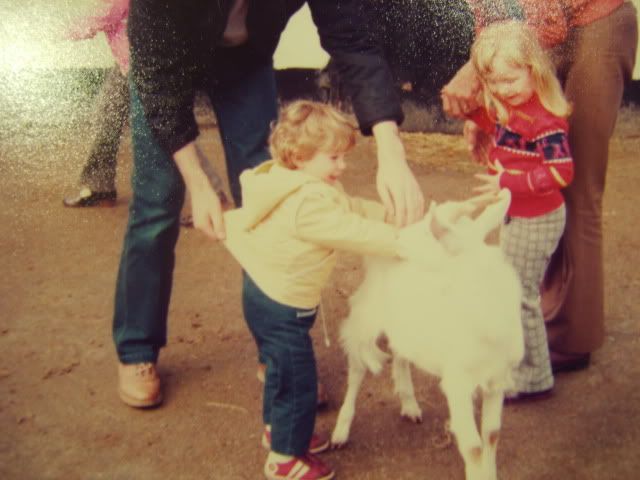 I'm the little one on the left being held onto by my father. (I wish I was still that blonde!)
For quite a few years of my life we didn't have any pets, until one day my mother and father decided to get a dog. I don't have many memories of life with the dog, but I distinctly remember the day we went to choose the dog.
It all started with...
We all went in my aunt's car to a farm. I can't remember where it was, but as it seemed with every journey when I was a child, it took hours. "Are we there yet?"
When we arrived we were taken into the barn, and the farmer asked "Boy or girl?" "Girl" said Father. I'm not sure why but he doesn't like boy dogs. The farmer went over to a gate and opened it. Out came a stream of puppies, beautiful yellow Labrador puppies. They ran round and round me, bouncing and yapping, I can still remember it like it was yesterday.
Amid all of this commotion, I glanced to my left and there was a little puppy sitting right next to me. She was beautiful and I fell in love immediately. "I want her". So, it all started with Sally actually.
Here's a few photo's of Sally and I together. Apologies for the '80's ness of them all, and my sisters very grumpy face in the second one!!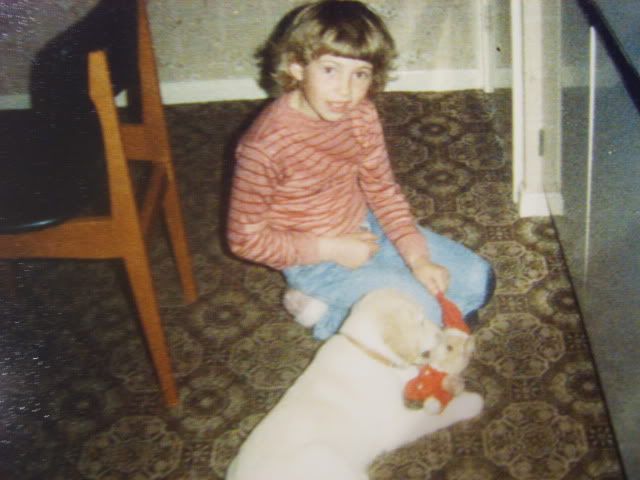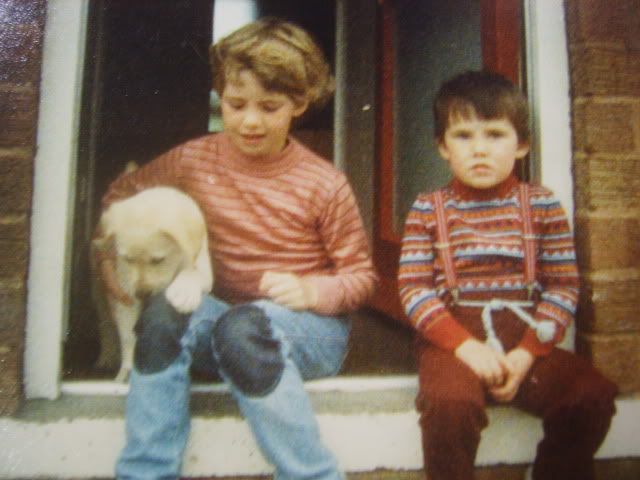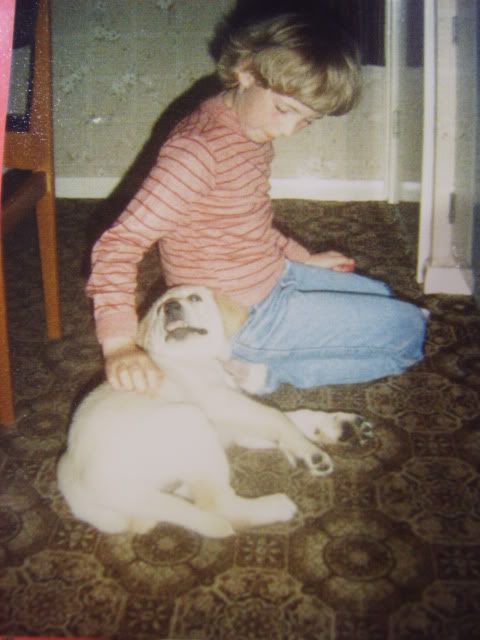 We were blessed to have Sally in our lives; she was a wonderful little dog, very mischievous, she loved to bring pebbles and stones into the house. Although she was a happy bouncy little puppy she used to lie out in our garden for long periods of time. My parents didn't think this was a natural thing for a puppy to do, so she was taken to the vet.
Poor little Sally had a life threatening liver condition, which was untreatable. The vet said that it was likely that she had had this condition from birth, especially as on the day I chose her she was the only puppy not running around. Unfortunately Sally never saw her first birthday. I can't remember anything of the time, but my parents said that my sister and I were both very tearful by the news. Now, I treasure the thought of having her in our lives, even for that short length of time. Wasn't she adorable? My very own Andrex puppy!
We had just gotten used to having a dog around the house. My parents were undecided, should they get a new dog or not?