So usually I am the kind of girl who wants very little, and is satisfied with what I have, but this year felt different, as if it was time for a change. I hmmm'd and haw'd and couldn't decide, so I went online to browse, as usual, and decided that this year for my birthday I wanted a guinea pig.
The boyfriend was happy to get me a sweet little fluffer for my birthday, so on March 10th I went to the pet store in town and put my little man on hold. A week later, I picked up Alfonz, and we brought him home in a little box, and set up his pet store cage.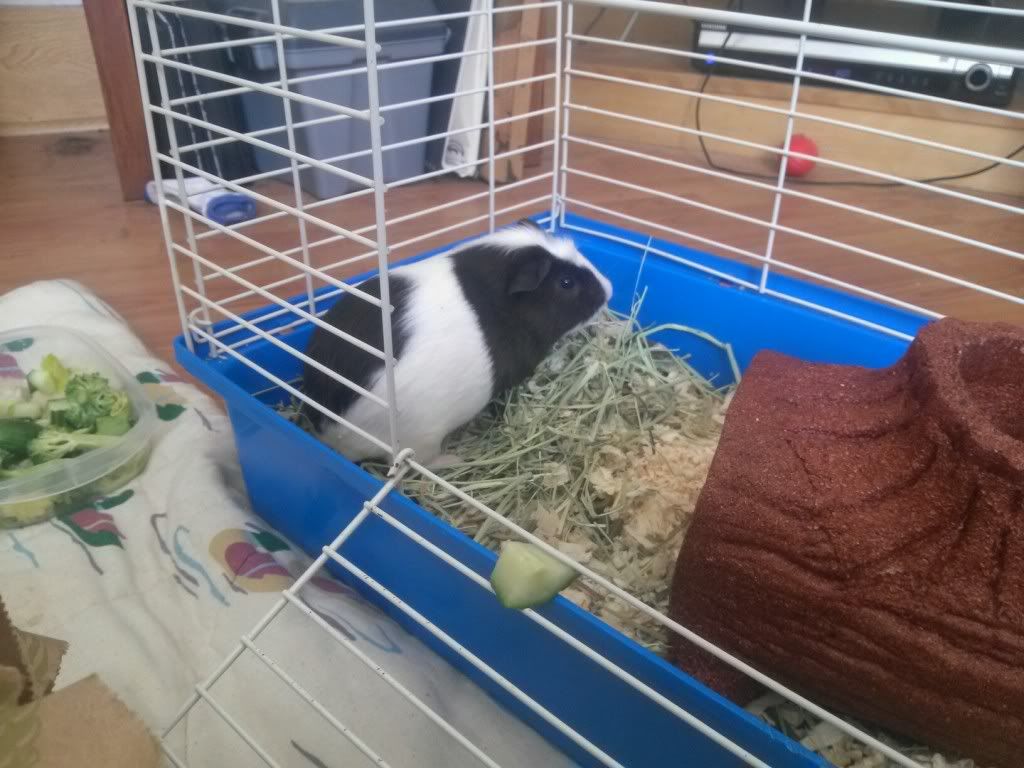 Once he was into his pet store cage, we started sitting with him and talking with him, and caddying him from his cage to our laps with his (now gotten rid of) treat log/house. We started reading that piggies needed more space than a pet store cage, so we decided to look into building him a new cage, a C&C cage. We went out, bought our grids and came home to get started. We decided to build a 1x3 grid cage, and were happy with the results.
Alfonz was not happy with the upheaval, but he became accustomed to the new home pretty well. We thought we had created a happy family, until one day during a snuggle, I noticed Alfonz was itchy and I got worried about dry skin, not knowing what to do about such a thing in a guinea pig. My worries of dry skin were foolish. Alfonz had lice! I was mortified! I searched and searched to find what they were and how to get them gone. Months I fought, getting rid of them, only to have them come back all over!
After a few months with Alfonz we decided to move into an apartment of our own again, so we packed up our fattie pigs and all his grids, and moved. Once we got to the new apartment, we decided that with more space, Alfonz could have a bigger cage, so away we went for more grids, and a large sheet of Coroplast. We build, and Alfonz watched from his banana box, and our completed project was a 2x4 c&c satisfaction, of which Alfonz very much approved.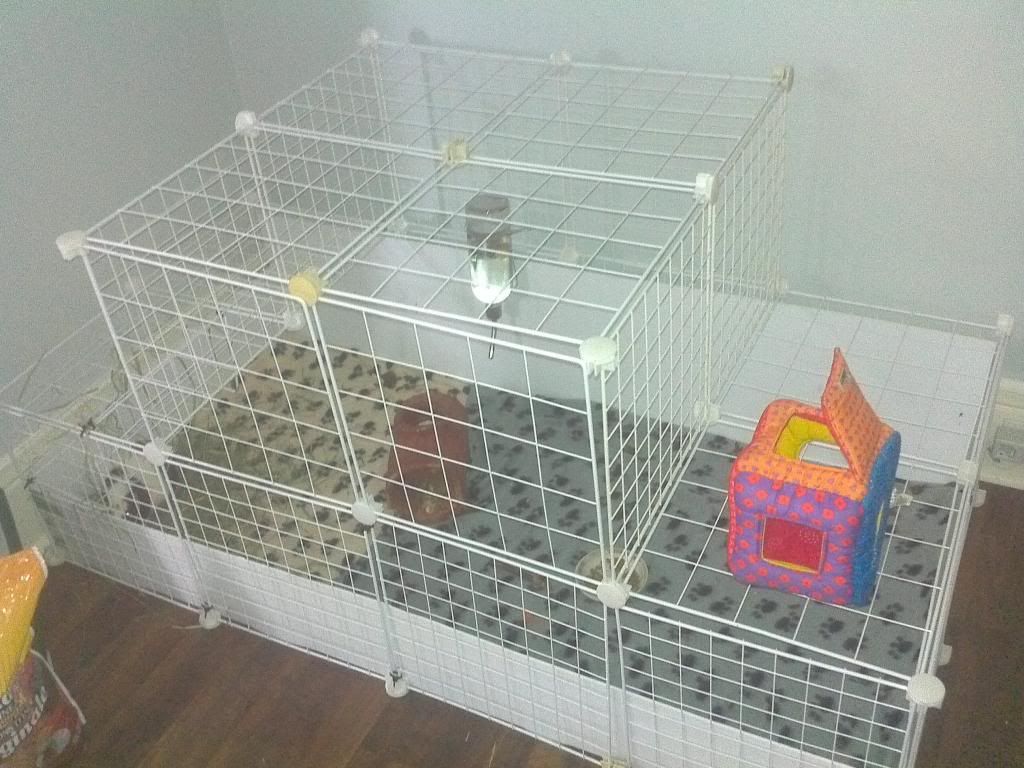 I decided that it was time for me to start working again, and thus, felt rather badly that Alfonz would go from having my company all the time, to being alone most of the day, so we agreed that it was time to adopt him a friend. We connected with a guinea pig rescue, and agreed that we would pick the perfect piggy for us, not just the first one that came along.....boy were we wrong lol. Two days after applying, we were sent a "family in distress" email. A woman ( whom I have become good friends with) and her daughter had gotten a 4 year old piggy, and then found out her daughter was very allergic, so we agreed that he would join our family. These are the first pictures we got of him.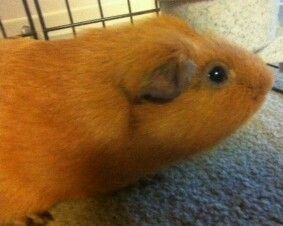 We waited what seemed like forever for him to arrive, he had been in quarantine in his old home, and at the rescue so when he arrived, we did introductions right away. It seemed hopeless to us, they just wouldn't settle their difderences . Jellybean or Jaybles as we call him, just couldn't leave Alfonz alone. He was solo pushy.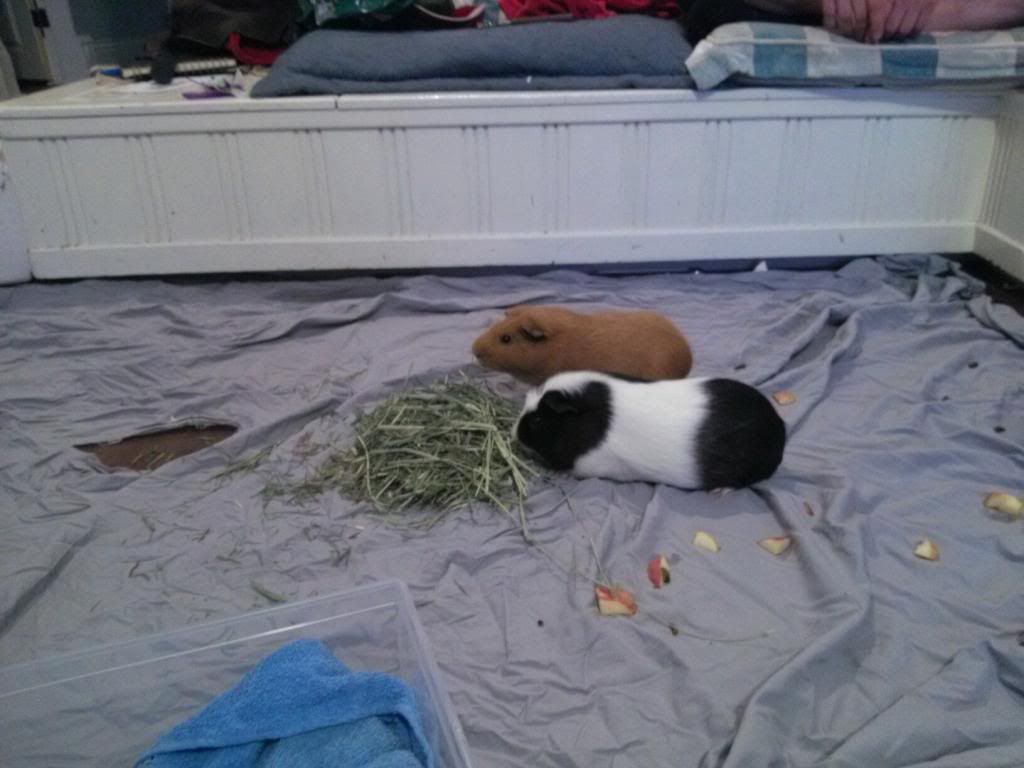 So, we tried a buddy bath after four hours on my living room , and things seemed to change, the were terrified together, and it looked like things would be good.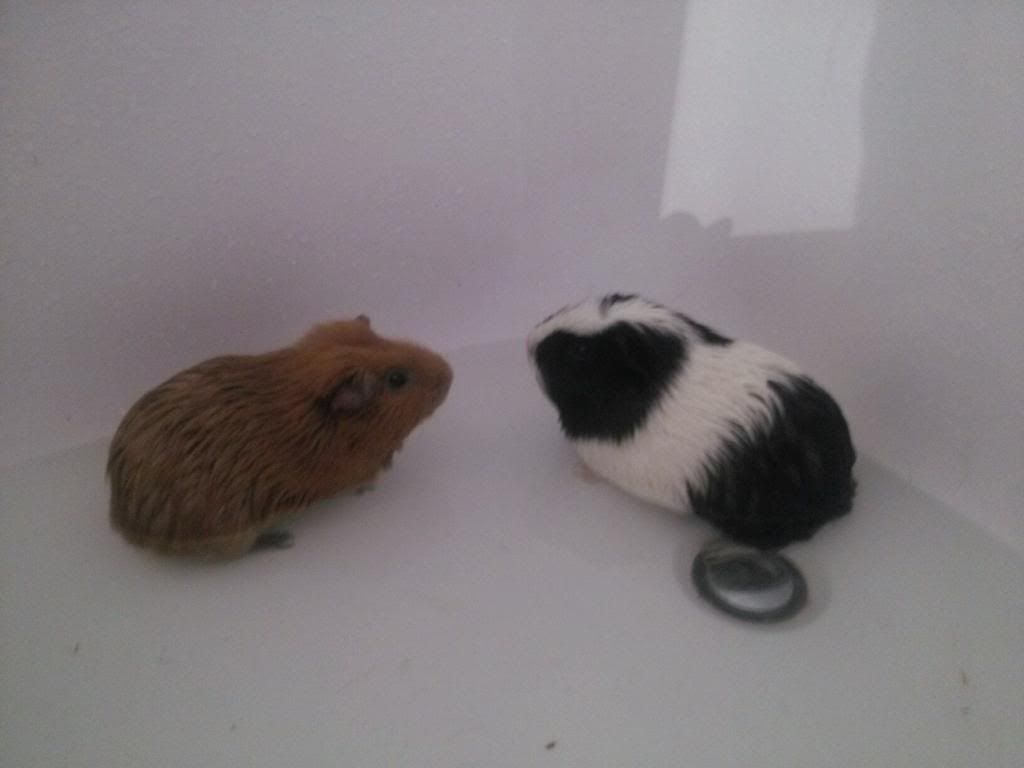 Unfortunately, they went after each other in the night, and had to be separated and in the end couldn't live together, and had to be side by side roommates. So, off to the store AGAIN for MORE grids and coroplast.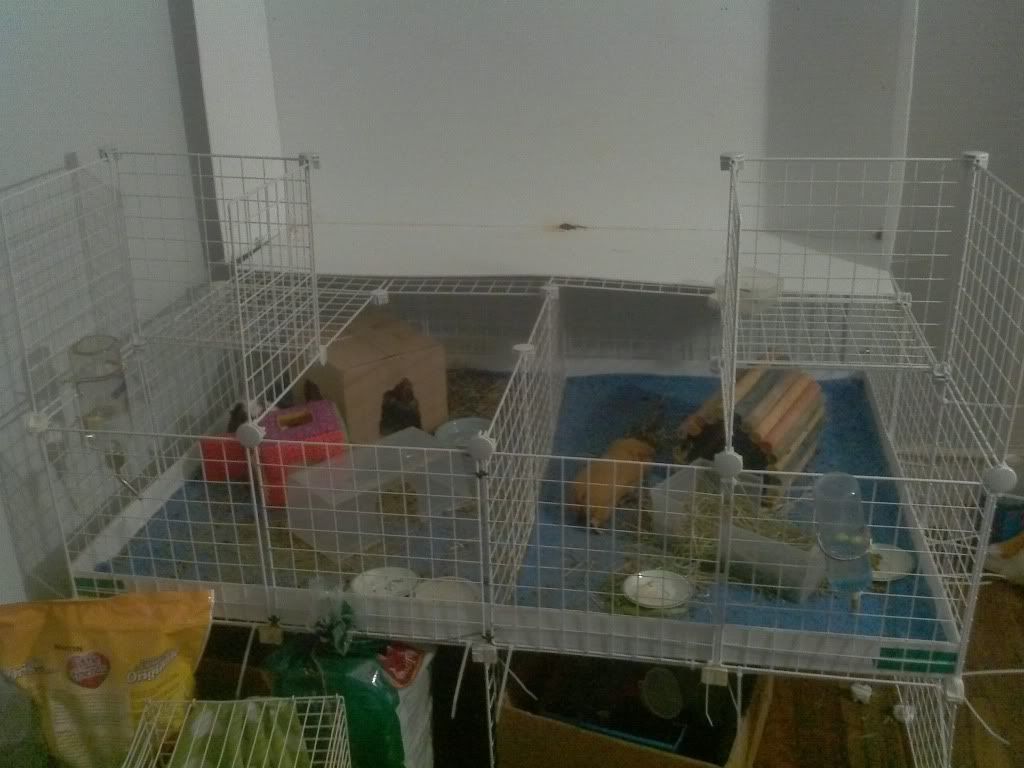 A 3x4 was created, and we thought "finally, we are done and everyone is happy".
Once again, were we ever wrong. Lol.
Last week I went out with my sister, and we stopped at the pet store to get her piggy, Zephyr some food, and there was this little, lonely piggy.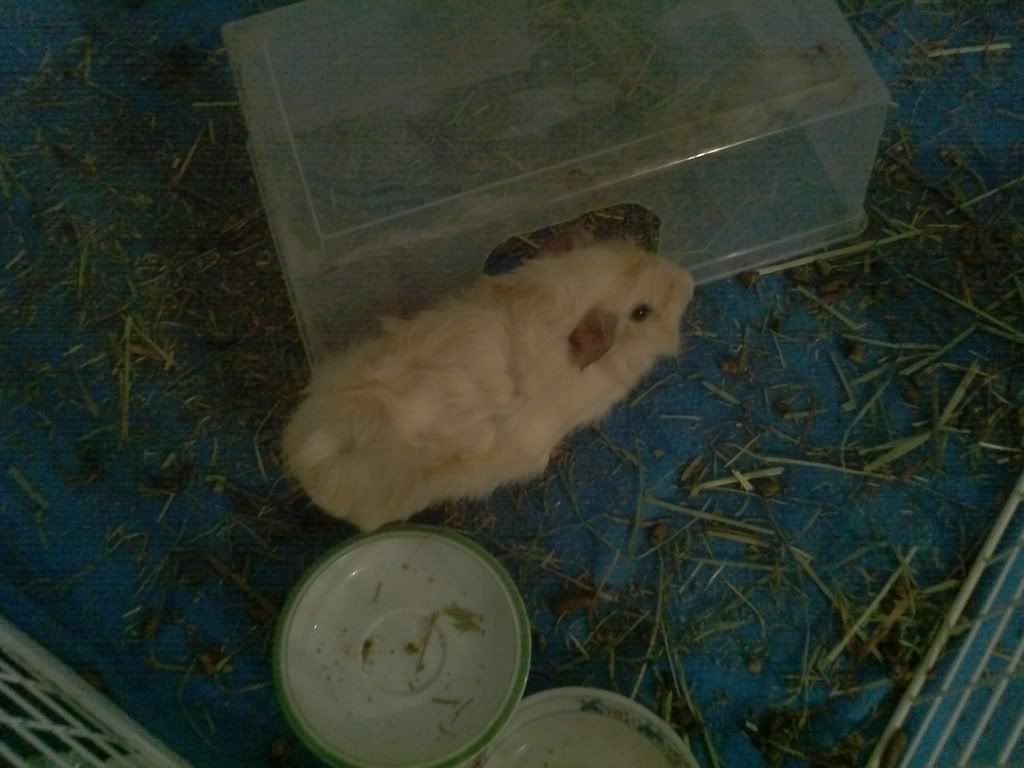 I sat and listened to the store clerk tell me that they had just sold their other pig to a classroom teacher, as a classroom pet, and shuddered for the poor little thing. I sat beside the pet store cage, and let my hand sit inside of it so the little piggy would come to me, and listened to them tell me that he was a mean little piggy, who bites, and doesn't come to be picked up, and runs even when he is fed. I sat there feeling worse and worse for this little piggy, scooped him up and snuggled him, and checked his gender while he was calm in my sisters boyfriends hands. Here is a sales person, telling potential customers what a horrible pig he was, and I'm able to check if he is a boy or not? Seems very legitimate. So, I called my boyfriend, and asked how upset he would be if I brought home another piggy, he was against the idea, and I felt very sad to even think of leaving him, so I convinced my sister to buy him and take him home for Zephyr to have a friend. She agreed, and I was satisfied. End of story right? Wrong again.
My sister took the little fluffer home, we named him Marbles, and all was good. For a few hours, her roommates told her that Marbles couldn't stay, my boyfriend didn't want him, but agreed to let him come for a few days. Marbles came to me.
Then I made a no-no decision off the seat of my pants. I went against all the rules and scooped up little Marbles and put him in Alfonz side of the cage just to get him out of the tiny pet store cage. Almost instant friendship was bonded.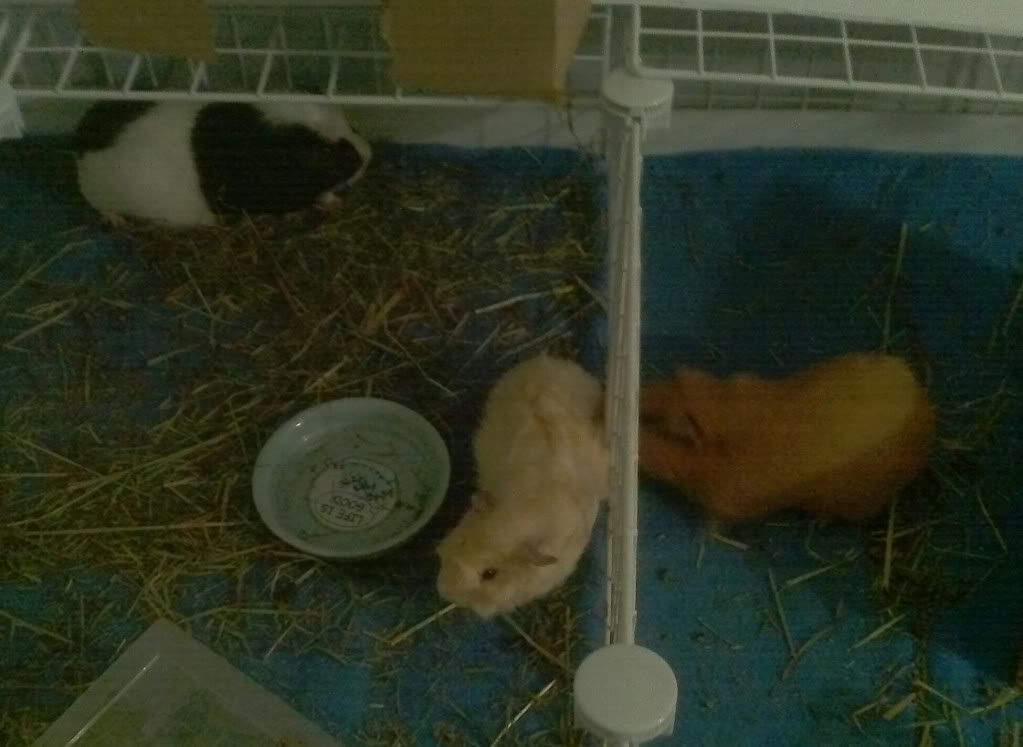 Alfonz is my boyfriends favorite, and with a little bribery, and sweet talking, Marbles will be staying. Jellybean is still unfriendly, and chews the bars and chases Alfonz and Marbles away, but its my hope that with yet ANOTHER cage change, things could calm down and they can all be happy. Three days off this week, looks like I have a lot of work to do lol.
That's my story for now, hopefully everyone enjoyed my story, and hopefully with the three pigs, and my sappy nature I will have more to tell. The rule is no more pigs though so we are a three pig family total lol.