Barley is now just over a year old, born 9th June 2014. He was an end result of a catalogue of accidental litters you can
read about here.
The in-breeding may or may not have had an effect on his overall health, but I was aware it may be a contributory factor.
I took him home at 3 months old with his sister Whisky intending to have him neutered so they could be together. They lived in adjoining cages happily for 2 months and at around 5 and a half months he was big enough to go through the operation.
21 Nov 2014
Barley neutered at local vet. After much thought, decided it may be better for closer follow-up visits having done other operations on my previous piggies without issue. It was a friday and he had a slow recovery and appeared traumatised over the weekend despite long acting painkiller.
24 Nov
Back to vet, Barley not really improving, slow and picky eating. More painkiller, Baytril shot and metaclopromide. Slowly improves.
5 Dec
Checkup at vet and seems OK.
13 Dec
A saturday and a vet trip to the emergency out of hours clinic. Smelly, greenish grey 'toothpaste' all over the fleece and Barley's left side - burst abscess No. 1! After a clean up, a course of Baytril, Metacam and chlorohexidine to keep him clean - and £200 lighter in the wallet!
15 Dec
Back to local vet to check. Further squeezing and flush out of hole with salt water.
17 Dec
During the routine squeeze and clean, this popped out. An internal suture!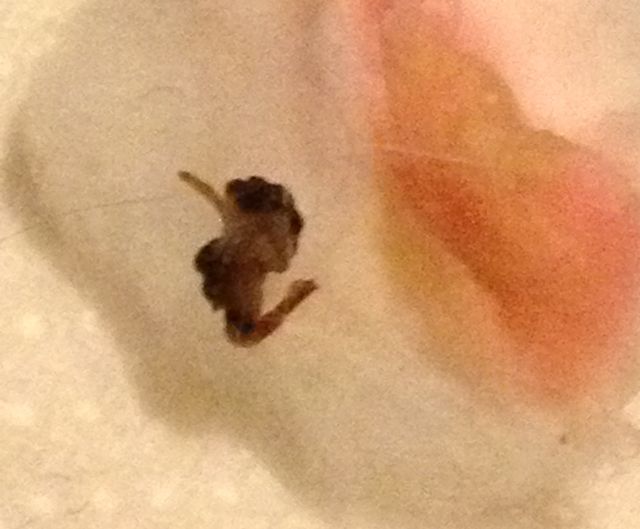 After that came out, the site healed up and there was no further problems.
22 Dec
Soft swelling on right side… Vet checkup, insert needle to see if it would drain… oh yes, nearly 10ml of pus pushes its way into the syringe. Abscess No.2.
23 Dec
Quick op under general anaesthetic to clean out the right hand side. Again, slow recovery. More Metacam and Baytril.
30 Dec
Checkup, so far so good. Barley really getting fed up of all the cleaning and meds.
22 Jan 2015
Scabby bits of skin and flushed areas on his back so treated for mites. Getting badly pee stained on his belly and back legs. Nibbling at his back feet which are flushing more red. Suspect fungal and order Imaverol. Give another mite treatment first in case and to totally rule that out. Imaverol not used, not so sure it's fungal.
31 Jan
Yay, we have another one!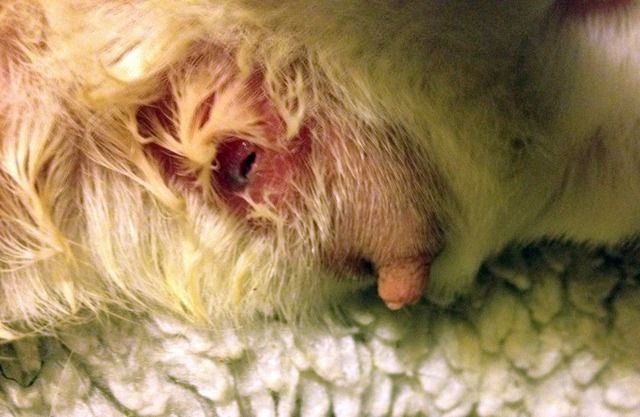 Abscess No.3 appears and bursts so another clean up, more Baytril and Metacam.
10 Feb
Barley REALLY objecting to all the fuss and bother by now. I've never been bitten so badly and so often by a guinea pig. Just finished another week of meds and decide on a 2nd opinion from Thistle Cavies 'special' vet! Barley behaves like the gentleman he always is at a vet, just takes it all out on me afterwards! Both sides appear to have equal amounts of scar and granulated tissue with no pain on palpating wound areas. Decides more aggressive cleaning and further course of meds required. Removes scab from right side and cleans but no pus appears. Told to be prepared for the long haul and it may happen again and again till Barley heals up himself.
8 Mar
Results back from culture taken of pus to see if that sheds light on his multiple abscesses. No bacterial growth found.
10 Mar
Phone vet checkup on how Barley is getting on. Seems to be free of any problems so far.
29 Mar
Hooting piggy, high pitched but begins to tie up with other issues, and not for the first time alarm bells start ringing!
Barley lies relaxed but with high pitched hooting.
Further episodes of hooting/honking and heaving hiccups with general inactivity, lack of interest, flushed red back feet, continued nibbling at back legs/feet, excessive peeing, squishiness around belly, alternating losing colour from nose and lips to normal colour of pink. All seems to point to heart issues.
30 Apr
Piggies at Thistle Cavies for a few weeks while I am on holiday. Mention heart issues and given OK if vet required. Barley apparently hoots more often than I was aware of being at work and goes to local vet and X-rayed. Diagnosed with a heart abnormality and prescribed Fortekor 2.5mg and on half a tablet a day.
7 May
Checkup and Fortekor makes an improvement.
28 Jun
Further checkup and repeat prescription required. Now, after 2 months, Barley no longer bites, no longer has excessive peeing, his colour is normal and he's a happy, active, popcorning piggy. He will probably still need Frusemide sooner rather than later but we're seeing how he goes for now.
Horlicks, Barleys brother from the same litter, has had similar problems. He lives at Thistle Cavies and was neutered around the same time at their local vet who has also treated many of their guinea pigs. Horlicks has also had 3 abscesses, various issues and now has a heart problem and is on Fortekor. He has not fared so well as Barley, has a heart murmur and is on Frusemide too.
So, two piggies, two neuters, different vets, different suture material, different heart problems. Same scenarios, same litter. Sadly their mother Raggedy Anne didn't fare well either. She was put to sleep at 10 months old with a large bladder tumour.
Surely in-breeding appears to have contributed to one disaster after another on this little piggy family. :-(
The saga continues...