So far I've grown 3 flats+ of wheat grass using this method, and wanted to share it with those who don't know and may be interested in trying, because it's really easy and simple! And no need to purchase wheatgrass kits and
no soil
!
And for those who have grown wheat grass before, it'd be great if you could share the way you grow your wheatgrass too! Love to learn any tips!
Well first I rinse then soak my wheatgrass seeds in an air tight container, placed in a dark cupboard for about 12hours.
The green seedling trays in the photos, I got from a $2 shop, and it was only $2 AUD for 4 trays. I soak a piece of newspaper and place on the bottom of the tray. Then I even spread out the seeds over the newspaper.
I cover the tray and place in the warmest area of my house (my room) I spray with water 2-3 times a day to keep it moist, so it's easier to germinate and grow roots etc.
Once little green shoots appear, I can then leave the tray open, and using a spray bottle, I spray once a day. During this time I keep it in an area of the house where there is some sunlight.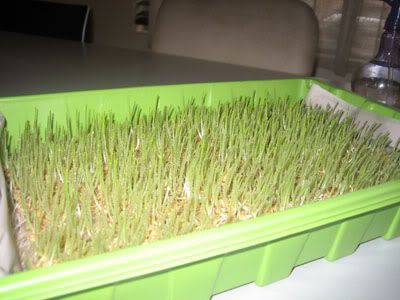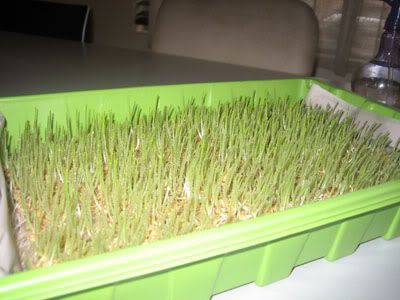 After about 7-10days, its a fully grown tray of grass! For piggies that like to tug out the grass, its best to trim off the grass and feed to them seperately rather than eating straight from the tray. I'm not sure, but I doubt it's good for them to eat the seeds and roots!
And it's ready to serve!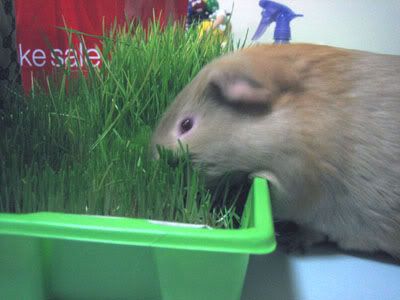 After the flat is finish, jsut roll up the newspaper below and throw away!
Does anyone else grow their grass this soiless way too? Or any tips to share?
Florence