Ok, I just walked in the door with a new rescue from the pound. He's an adult boar, possibly abby-ruvian and he's VERY underweight. He came in in the smallest possible pet store cage living on wet paper shavings and get this, there were all these Peta stickers on the cage about being humane and yet here he was in this tiny cage. I'll post a pic of the cage when I get it from another volunteer. Meanwhile, I really need the GL expertise! I am desperate that he do well with me (long story). His current stats:
Weight: 874g
Eyes: clear
Ears: clear
Nails: pointy and long
Skin: the skin on his abdomen and scrotum has white, flaky spots. I assume this is a fungal infection? Which kind of Monistat, the regular 7 day creams? Twice a day? The cage was a perfect breeding ground for fungus, nothing absorbant at all.
Mites: a vet-tech friend has ivermectin! I'm getting some from her tomorrow to treat both new pig and Piggy. They're quarentined but it's been over 2 years since Piggy was last treated so it won't hurt.
Poos: dark, moist, smallish but normal
Food: 1/4c Oxbow cavy cuisine, handful KM timothy, I'm planning on giving both food and pellets free choice until he gains some weight. No veggies until he settles in tonight.
Name: Little guy needs a name!
Please, any and everything you can think of to help him get off on the right track!
Here's the new guy, he's on towels tonight so I can monitor output: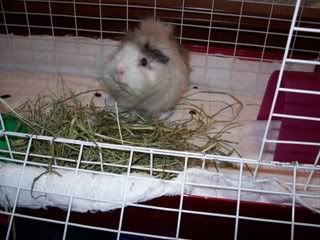 Best images I could get of the flakey skin: