IT was the first week of April 2005. Everyone was out of town. Ben has gone back to Hong Kong, my parents were back in Taiwan, and I was here… all alone. After spending half of my paycheck on See's, I've refurnished the house completely with simple sleek-lined IKEA bed and dresser for the room, and sofa for the livingroom…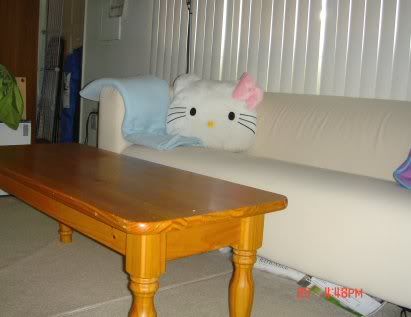 Bored to tears, went over a coworker's place for tea. I heard a high-pitched sound coming in from the yard… Can't really say what it was, but it just kept on whistling. Then, the blunt old me had to investigate… It was a guinea pig, in a cage, on top of the washing machines, in the laundry room. The story goes the Friday before it was her daughter's 6th birthday, and the piggy was a present. However, the "vicious" rat bit the birthday girl, therefore, unfit to be a pet, and that "
vicious
" animal had to stay out here to avoid bringing harm to the 2 kids. She asked, "You want it?" Now, I've never had a guinea pig in my life before. I've had fish, hamster, 1 chicken, 4 dogs, 2 doves, and snakes as pets, but never a guinea pig.
NO
thank you.
Monday morning came, as usual, ever so unwillingly got up to go to work (tax season). There I was poring myself a cup of coffee in the lounge and I saw the pig again, in the middle of our conference room floor, with a piece of paper taped to its cage… "Vicious pet, free to good home." I was tempted, but scared. Lost a poodle 2 years ago, never really gotten over it. And, I've never had a GP before, let alone a vicious one. During lunch, I moved my laptop to the conference room and Googled guinea pigs with the piggy cage beside me on the floor. All this while, she just slept stretch-out flat beside her pigloo, neither scared nor welcomed me, just … unconcerned with my presence…Kind of hard to link viciousness to her face, bossy yes, vicious… no.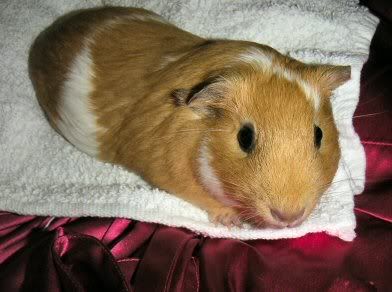 When we came home, she slept all the way on the car, and before I can go home, I needed to make a stop at Petsmart for hay (she didn't have any) and Safeway for veggies (everyone was out of town, I was living on chocolates and ice-cream). So with 2 pairs of oven mitts and a cellphone by my side, I opened the cage door and touched her for the very first time. She seemed bored with me almost, gave my mitts a head butt, and gave out a wheek… Yup, it was then, she had me at the first wheek.
Now, my biggest obstacle is what to tell my parents when they come back to the CA?...
[Formerly:
It was the first week of April 2005...
]