Tanuki is one of my skinny boars. I adopted him from the Toronto Humane Society last April. At first he had some skin issues like dry spots, and I had tried some different things like vitamin E and sweet almond oil on his to try to help. It mostly ended up gunking up on a spot on his back, and I eventually found that with a good diet of high-quality pellets, unlimited timothy hay, and lots of fresh veggies, and eventually getting his toenails down to a reasonable length, that the skin problems cleared up on thier own.
He is very hairless, even for a skinny, and while everything else is fine, he never seemed to have enough fur on his nose. He has had two separate courses of ivermectin since I've had him, and he doesn't seem to itch really anyway. Just the fur on his nose never seemed quite right. I tried putting monistat cream on it twice a day for quite a while, since skinnies are supposed to be more susceptible to fungus. It didn't seem to do anything for him, and he hates having gunk rubbed on his face.
So after hearing how coconut oil has been a miraculous cure for some, I've decided to try it out.
I found it at a little health food store, and it was $20 (Canadian) for a one pound tub. I was expecting to pay about that much, but I was expecting it to be a smaller container! The lady at the store kept telling me how its such great stuff, and I should take 1 tsp with every meal, and how its good for your hair and your skin, and with weight loss, but to start slow... and so on.. I was just smiling and nodding, I didn't have the heart to tell her I was going to rub it on a hairless guinea pig.
Anyway, so here is the coconut oil I got: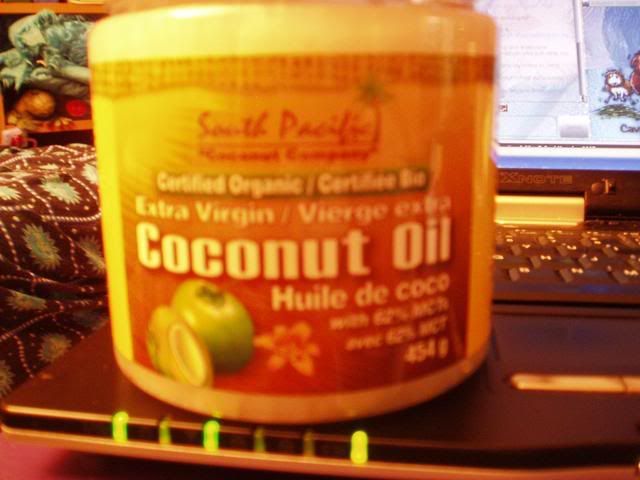 It says on the box: Since the beginning of time, the sexy silhouette of the coconut tree has brought passion to the tropics" which makes me giggle every time I look at it. And it smells really good too. I just want to make sure that this is the right stuff. It says it is: Certified Organic Extra Virgin Coconut Oil, non-GMO, cold-pressed, 62% MCT's, unrefined, non-hydrogenated, sweet aroma, delicious tasting. I was expecting it to be with the massage oils and stuff, but it was with the food products.
I took some 'before' pictures, then I rubbed it on Tanuki's nose for the first time tonight. I'm not sure how often to use it though - would twice a day be good?
Here are the 'before' pictures I took. It was difficult to get a good clear shot of his nose. I hope to be able to update this thread with 'after' pictures where there's lots more fur soon.