Hi there, we've currently got 3 pigs.
Our first pig Kita, we got about a year ago and she's very loving. (I'm not sure of breeds..).
The second piggy we got a few months later, named Minnie, she's rather aggressive, doesn't like to be picked up and let's you know she doesn't want to be touched. Even though Minnie is not a cuddly pig, her and Kita get along just fine.
We just recently got another pig, who we named Autumn. She's very loving like Kita and loves to snuggle.
We kept her quarantined for about 2 weeks before we added her to Kita and Minnie's cage. Every time we put her with them they would get very aggressive. Especially Minnie, Kita on the other hand seems to be a mediator between the two, even standing between Minnie and Autumn and jumping or "buzzing" at Minnie if she tried to come close to Autumn.
One night we decided to leave Autumn in with them for a few hours. What a mistake that was! When we went to check on her we found that the rims of her eyes were slightly slit, almost as if it had been hit with a piggy nail. She also had a slight tear in her ear and underneath it was bleeding, as if one of the pigs had bitten her.
We made Autumn her own cage since then, but I wanted to know why this is happening. Is one piggy breed more aggressive then the other, or are they just like people with different personalities?
I noticed that after Autumn is taken out of Kita and Minnie's cage, they are aggressive towards one another for a while. Almost like Kita is not happy with Minnie and wants her to know it.
Here are pictures of the three pigs:
This is Autumn, our newest pig.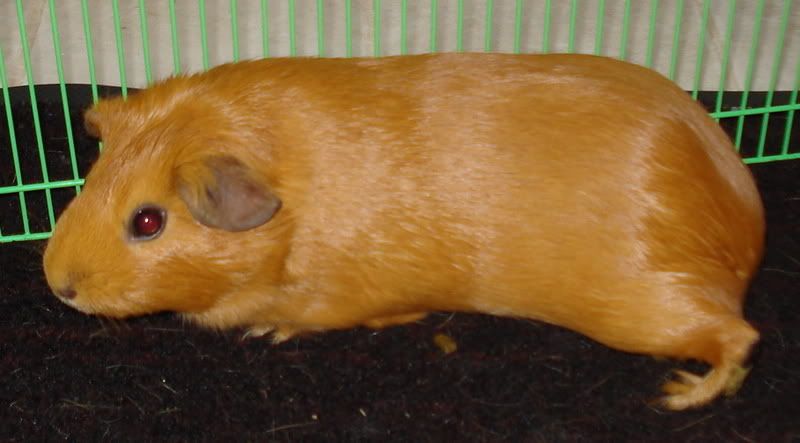 This is Kita (on the left), and Minnie (on the right).
Any help would greatly be appreciated.
Thanks!
Sherry