So i went through before asking this but what is the material used in the bottom of the cage. the blue stuff? and where did you get all of your cute guinea pig cozies and such? and last but not least where did the material like the sherpa fleece come from? thanks for all your help :D i'm looking to change up my cage as my girls are kinda sad and need some change
tburne - My ramp was a bit steep, but my girls did not mind using it when I draped a towel over the top. Many guinea pigs seem to enjoy going through tunnels.

An older picture of my ramp, in use: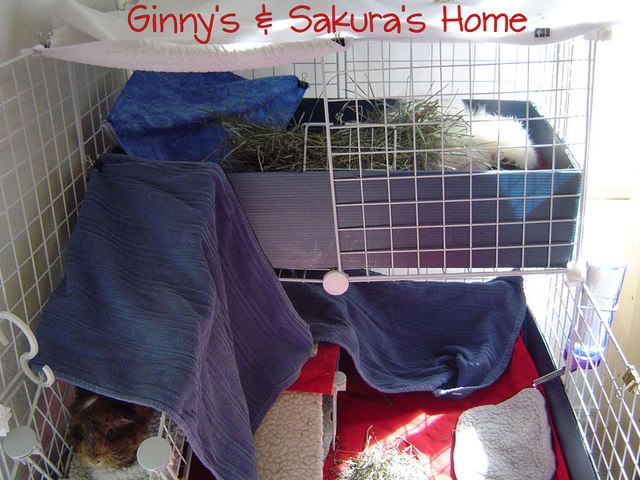 Another member, cutemomomi, recently posted pictures of her excellent ramp.

However, some guinea pigs just do not like ramps. My nephews' boy, Smoothie, never expressed an interest in the ramp in his cage.


Onidog - I buy fleece and faux Sherpa fleece at fabric stores, like Joann or Hancock Fabrics. You can also order them online.
www.joann.com
http://www.hancockfabrics.com/

I usually make my own cage liner pads and cozy items. This link explains how to use fleece in your cage:
LINKS - Using Fleece as Bedding
You won't see it in the previous set of pictures, but I also have two layers of cotton towels underneath my fleece.

Some of our GL members create and sell wonderful cage accessories.
Jen's Custom Crafts
WindeSpirit

More guinea pig items can be found in the Sales Forum!
hi!

im a first time owner of a male guinea pig,
im looking at some of these cages and theyre so awesome.
how often do you change it though?
This such an awesome cage. Where did you get the mini grids?
Hi firsttimepigger!

There is a great conversation on changing fleece bedding on this thread:
When to Change Fleece and Towels

Currently, I change Sakura's puffy beds and cozies daily, and then change the fleece and towels as needed (which can be a few times a week). I do spot clean twice a day.

If you're planning to use disposable bedding, such as Carefresh or stove pellets, you could spot clean daily, and then clean and replace everything weekly.

Cinnabuns mom, I haven't seen the mini grids in a store in years (sadly). I found those at Bed, Bath & Beyond many years ago. Everyone once in a while I hear that someone found a pack somewhere online.