Hello everyone. Thank you for your wonderful forum.
Our female Guinea Pig, Gaby, gave birth the other day which was a real surprise. Firstly, because the pet store told us that she was not fertile as she was with male Pigs for over a year without falling pregnant. Secondly, she had been with our male, Pepe, for over 6 months before anything happened.
Anyway, she gave birth to two babies, and one still birth. We left them alone with their mum for a couple of days, and handled them for the first time last night. Unfortunately upon further inspection we observed that both babies have deformed front legs. One of them has one front leg that appears normal, however the the other's front legs are both withered.
Here are some pictures. Apologies for the poor quality.
This is the one with one good leg. You can see that the other leg is shriveled.
Both of this poor guy's legs are shriveled.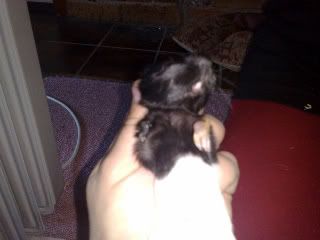 They have obviously grown since birth, and look very healthy other than the legs.
Has anyone had experience with anything like this before?
If their disabilities aren't life threatening or don't affect their quality of life in any way, we will of course give them all the support they need to live as normal a life as possible.