I've talked the option of getting Cashew a companion to a death on forums, about 5-weeks ago I turned to the rescue who babysat Cashew to ask her what she thought.
After a few weeks wait while a bought of fungal cleared up, we went to collect miniPig (now named Koda, thought my flatmates are admant he's an iPig) on Tuesday (yesterday!)
The story of us going to collect him his... a tale, to say the least, so I'll put it at the end of the post and put pictures before then :)
Introductions began last night (little pig was already in quarantine and Cashew has already had a vet visit/mite treatment and isn't in contact with piggies here). While there were a few temper tantrums from Cashew in the cage (he seems to love his hidey-box which has now been removed and was possessive of the food bowl which I quickly split into two because I was keen to see Koda eating before I went to bed) this morning everything seems calm and well settled.
Koda has been stealing food from Cashew's mouth, and when we removed Koda from the cage to file the points of his nails down (so people (novice peeg handlers) would stop holding him weird to avoid his sharp nails) Cashew stared up at us which is something he doesn't usually do.
Anyway: bla bla bla - picture OF CASHEW (big agouti, 2-year-old boar) AND KODA (7-week sheltieXrex boar)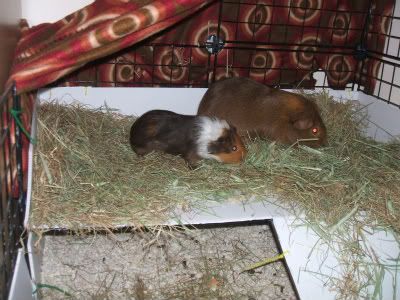 Koda as SONIC THE SPIKE-PEEG!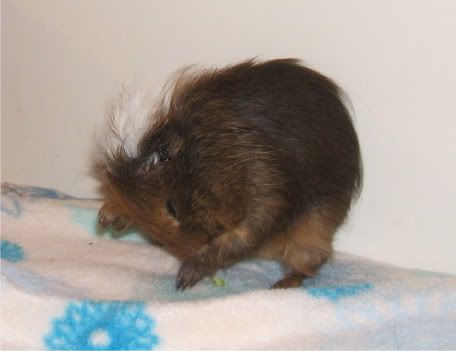 The things a pig's gotta do for cucumber.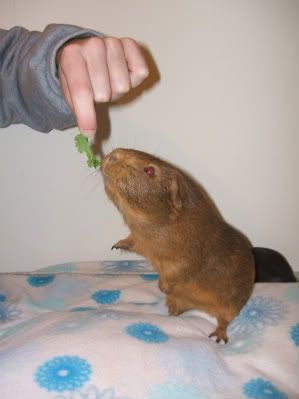 No reason except I thought this was a damned good photo of Cashew's piggie lips.