I really don't know how to start this other then just saying it how it is.
My name is Clover, the eldest girl of the Schimpf girls. I didn't always have this nice fluffy life. I was sold in a pet store that didn't care who they sold me to. After only a few weeks at this *shudders* "home" I was brought back to the store. The people that bought be said there was something wrong with me, WELL YAH!!! I don't remember what happend but mommy saids that I was probably dropped. I had a broken leg and head trama.
After my sugery to fix my leg I was put into the pet stores "sick" room where I was put into a dark bin and given hay, pellets, veggies and water.
I don't know how long I was there but the next thing I know there comes a woman who I now call mommy. She smiled at me and I knew I was going to be ok.
I was very scared of everything, for fear of being hurt again.
As you can see when I was young I was very scared.
Now 11 months later I am a happy healthy woman. BUT thats not all. Durning May mommy and daddy had to go away for a week end. Thinking that the lady who took care of all of us would not do anything but just feed us. Mommy didn't tell her that the boys where boys and the girls where girls.
A few months later I gave birth to three happy healthy babies. While I am ok mommy has sworen never to let that happen again. She told me that I was lucky that sometimes piggies can die from having babies. SO I agree with her!
Here are me and my babies, August 4th the day they where born.
Now I'm getting ahead of myself.
I forgot all about Lila. Lila was bought at PetSmart by mommy so I could have a cage mate since I'm a girl and shouldn't be around boys.
I didn't like Lila at first because she would hide UNDER, yes under me. But since then we have grown to love each other. Lila is younger then me. We think her Birthday is Dec. sometime.
Here we are enjoying a good lunch.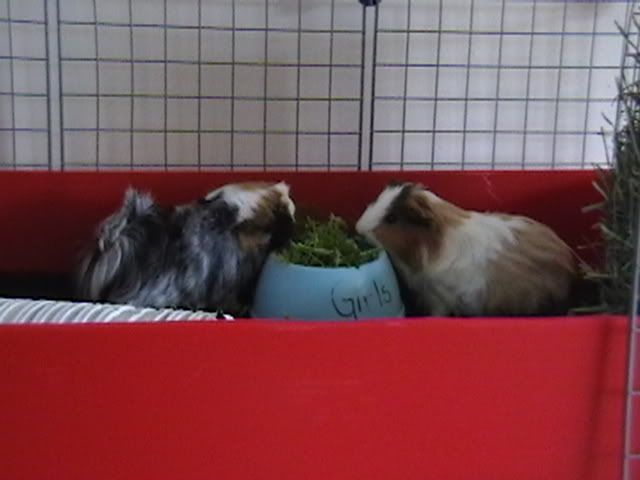 Another few shots of our lunch, mommy likes these and asked me to post them.
(thats me pregnant with my babies!)
I think I'll take a break and introduce my baby girls in a little bit as my small paws are sore from typing so much.