Milkyway is a pink eyed white boar who had a journey through hell before arriving at the TX Rustlers Guinea pig Rescue. He came in with the worst painful back abcess they have ever seen and still he persits in having a fun, colorful personality. Here he is after surgery.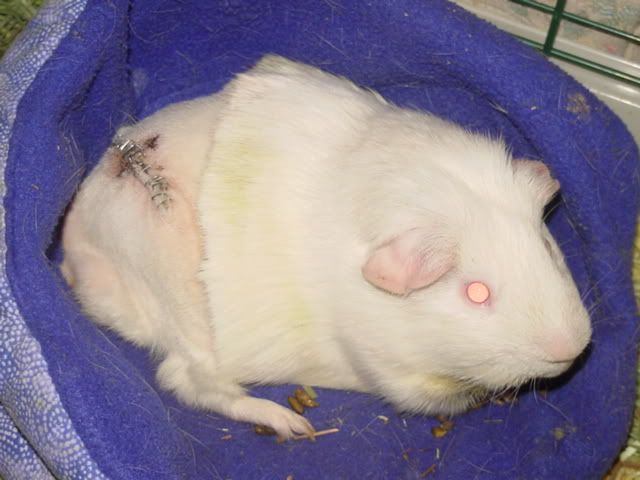 After losing our beloved boar "Foster", MrTex and I are hoping to bring Milkyway home with us to integrate into our herd of sows. Since, when I met this boar, he had a personality just about as big as the Milky Way Galaxy.
I dont know all of Milkyway's story. But I know he came in with what looked in the photo like a decaying back.
(Photo link here : DO NOT look if you gross out easily)
On their webpage these are the notes written from when he first arrvied:
Just rescued from animal control yesterday, we don't even know if Milkyway is a boy or girl, as we don't want to cause more pain by turning him/her over to check. Receiving pain meds, and Milkyway will need immediate vet care.
UPDATE: This is the worst painful abscess we've ever seen.
UPDATE: Milkyway went through a really rough spell post surgery and did not eat anything for 4 days. He was of course hand-fed and given pain meds. Finally he started to eat a few of his favorite things and today there is a marked improvement.
UPDATE 9/09: His back is healing well, but not completely healed yet. His back right leg is stiff (may be nerve damage).
Milkyway still needs to go in for his neuter surgery. I am sure that was delayed because of the back wound. The Rescue is deeply in debt from helping so many needy guinea pigs and more than a handful of other animals as well. Anyone wishing to donate, here is their link:
http://theguineapigrescue.com
Milkyway is halfway down this page:
http://theguineapigrescue.com/surgery_sponsors.htm
I also hope to get many positive thoughts both for his upcoming neuter sugery, and for intros when the time comes. My sows can be as turdy as their poo. ;) So I need all the good luck I can get for integrating more pigs into the herd. And I am still working on getting them to accept a lab piggy sow or two from
that
rescue incident.
Milkyway might get a new stagename when he arrives here. But we will never forget that is his first name. I'm really looking forward to adding him to our family. Please follow this thread and help me bring Milkyway home forever.