I always told myself that if I got a hold of a red-eyed orange pig, I would name it Speedwagon. The reasoning being that red-eyed orange is usually abbreviated to REO. Thus, I would have my own little REO Speedwagon.
Well, today my evil plan has gone into action. At the MGPR adoption meet today, there was a group of a mom and 3 babies that had been pulled from the shelter this morning. They were all fluffy red-and-white puffs with crests and out-of-control hair. I spent quite a bit of time adoring them -- I don't see babies very often.
At the end of the meet, when I had my fosters all packed up and almost out the door, I decided to take another peek at the babies. At which point, another fosterer told me that one of the babies was a boy and needed to be separated, so they were looking for someone to foster him. How could I resist this face!?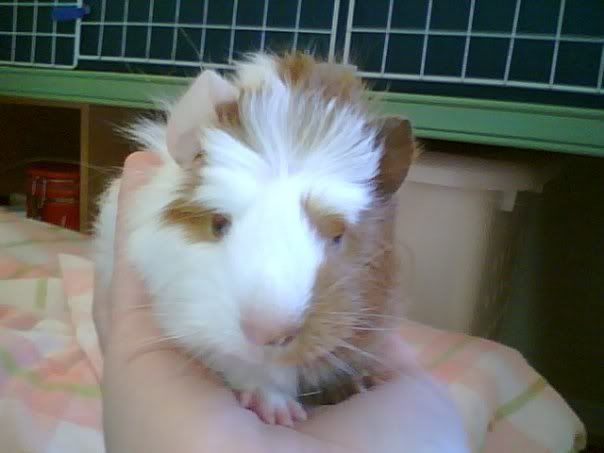 So, after convincing my mom that we needed this pig (an enterprise which pretty much consisted of "He fits in the palm of your hand!"), and being assured that my dad wouldn't be pissed over another foster, I brought little Speedwagon home. I have him set up in a pet store cage next to the other cages.
He seems very lonely when he's not interacting with me or other pigs. When I put him in his cage, he hides in his igloo, and won't move or eat. As soon as I pick him up, though, he chows down. I guess he just misses his family, the poor little guy.
I weighed him, and he is about 240 grams. I was told he is 4 weeks old, but that weight makes me think he's more like 3.
And now for gratuitous photos!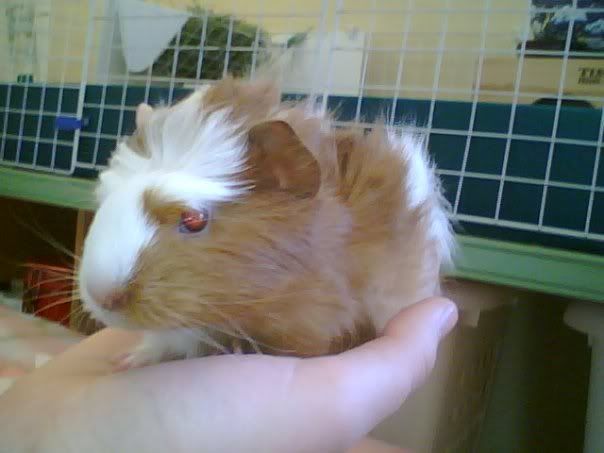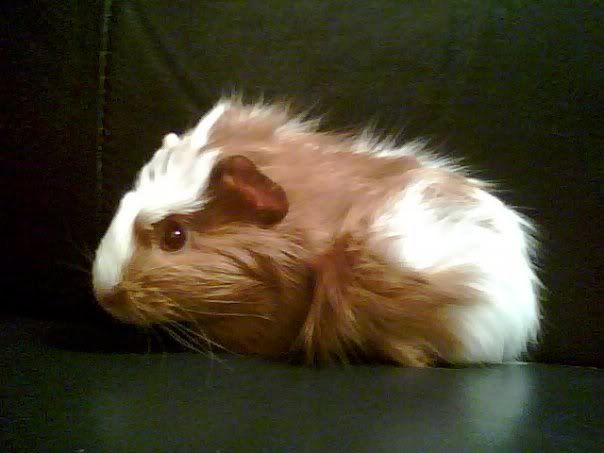 The fluff! Oh, the fluff!