About a fortnight ago, my well-laid plans to concentrate on my thesis this year were thrown into arrears when I saw an ad for a pair of two month old Himi babies in my work's trading list.
The owners had originally purchased them from a breeder when they were a month old, but soon realised that their two year old son was too young to play with them gently. They were in a tiny pet store cage and hadn't been given any hay ("We heard they like it, but couldn't find any" - they lived less than 2 minutes walk from a non-animal selling petstore that sold some!), I don't think the cage had been cleaned once since they got the little dears. I almost needed a paint scraper to scrape off some of the pooploaf they were living on.
I've always wanted Himis, so I was instantly smitten with them. It took me about a week to name them. Maybe I rushed it, I still have trouble telling Sooty apart from Smudge!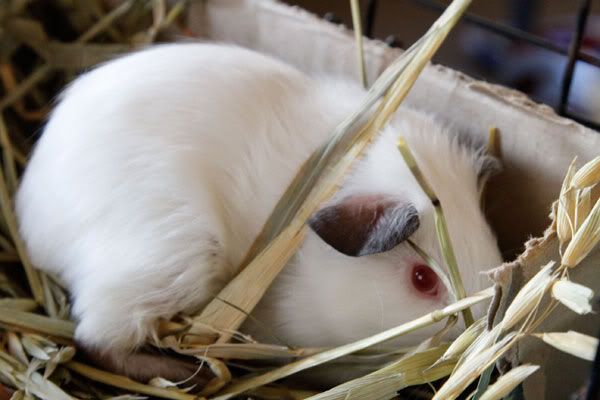 Since they were an "impulse buy", it took me about 24 hours to get them out of the petstore cage into a hastily erected 2x4 C&C (I drove about 20 minutes on my own to pick up the Corflute - it was the first time I've plucked up the courage to drive anywhere other than the local shops on my own!) and to throw together some snuggly toys.
(This was the first time I caught one using the cuddle cup! I was so happy!)
I've discovered that they love corn husks, something I'd never thought to feed piggies before. They also go wild over lettuce. I'm not having much luck convincing them to eat their oxbow pellets, unfortunately. I've been mixing tiny amounts in with the mix they were on before, but they won't touch them.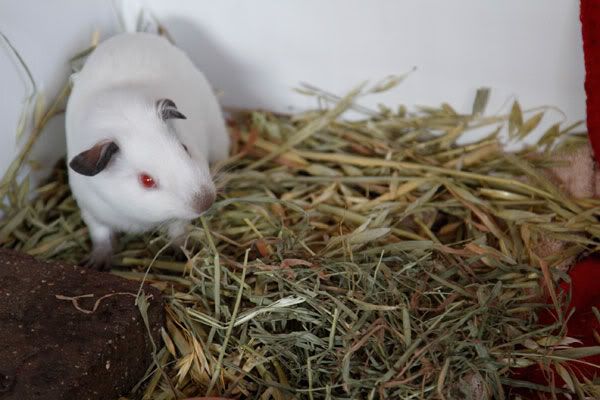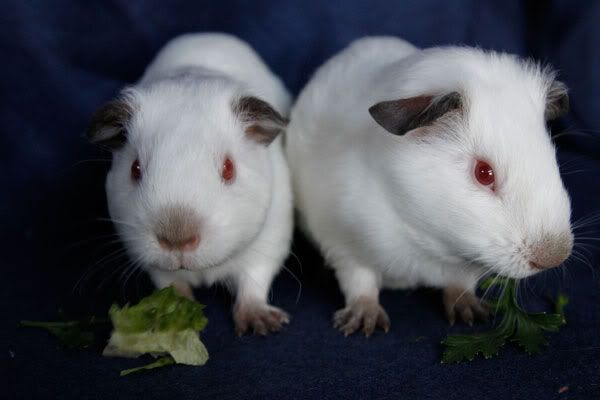 It's amazing how much two little fuzzballs cost, isn't it? I reckon I've spent $300 on these guys in a fortnight, and I've not even taken them to see the vet yet! (Going to the vet means driving on the freeway - I am still psyching myself up to that.)
I've yet to tell my supervisor about my little poopie machines, something tells me he's better off not knowing. Oh well, he did say that material flow would be the only thing I care about this year!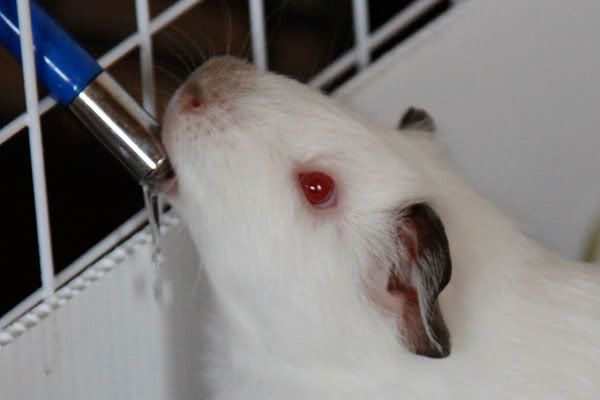 And I thought I had a drinking problem!
Coming soon - Sooty and Smudge's first floor time