The economy is in shambles, full fledged wars are being fought, and in just a few hours, a used NASA satellite dish is aboot to crash onto planet Earth.
But people, have no fear, there is still reason for hope, because our chronicles are back!
This ought to provide some sorta relief to Walls Street, Somalia Famine and NASA space waste… right?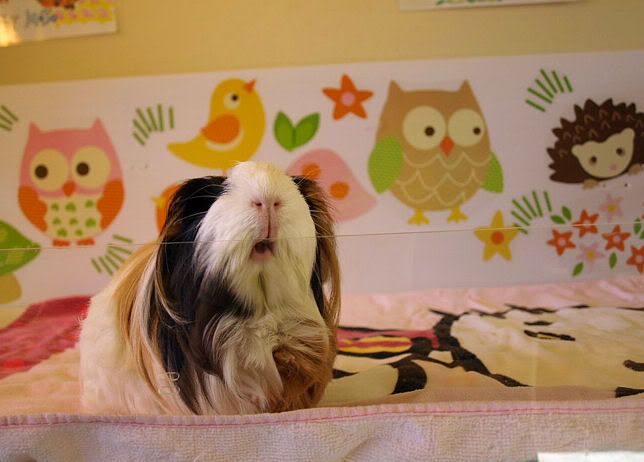 So, let's us see….
Well, the biggest news was that momo had her uh,.. eh… 18th birthday!
That'da right people, stop adjusting your monitors and rubbing your eyes, momo at the peak of her youth.
Ironically, I am still waiting for cake by the way if Buji is reading! *cough*
We had gone through some not-so-happy weeks before this trip, and I was very happy that Maxie recovered nicely enough from his abscess surgery so we could make to our reserved dates at Yosemite.
The drive was only aboot 3 hours, and we stopped at a Mangy Moose dinner.
Curiosity kills a momo, and I just needed to find out what is a Moose Cake on their menu. I regret it aboot 1/8 way into it.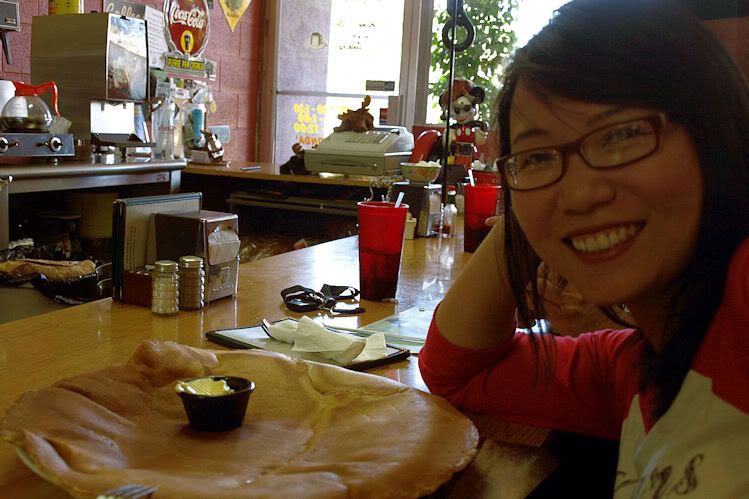 We stayed at HouseKeeping Camp, and this is view in front of our "cabin",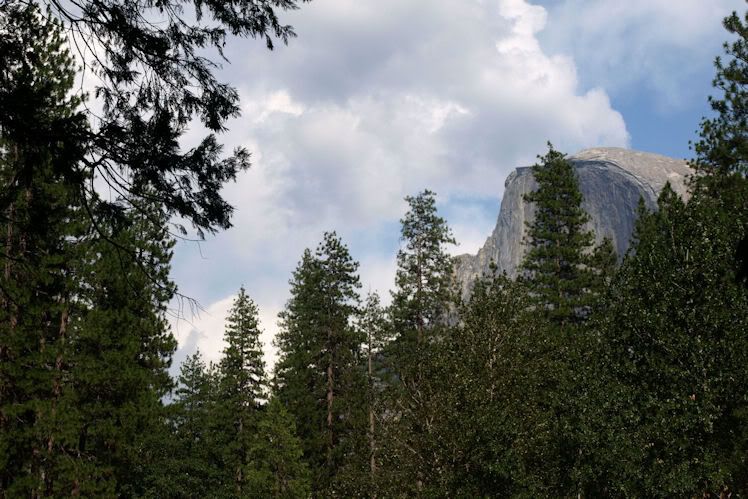 And this was the back.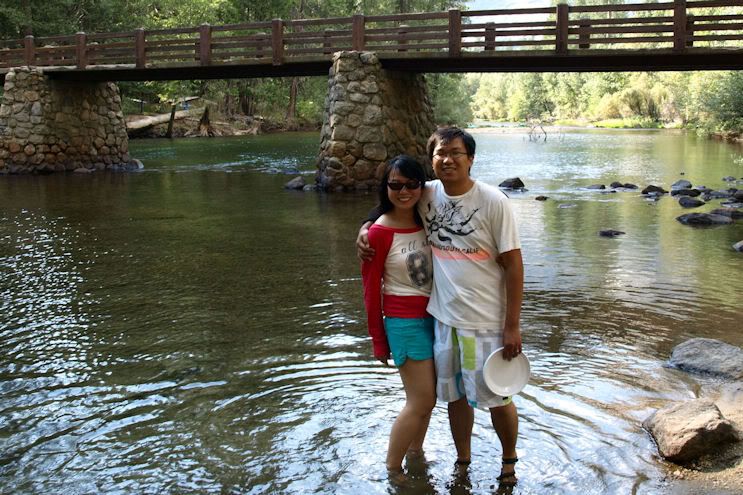 I was disappointed to see how low the water in Mercedes was, it threw off my joys of seeing Benben muddling with his arm floaties things…
Putting away my disappointment for a minute, I picked myself up and moved onto Plan B to see Buji suffer.
Look what we booked for us, a half day trek to Clarke's Summit.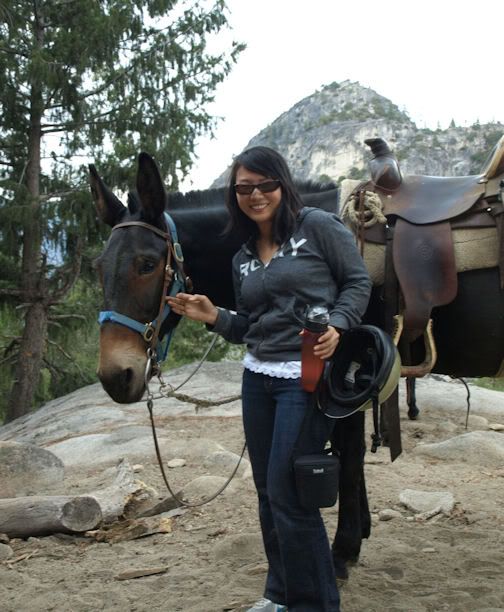 The next day was my actual birthday, Buji was awfully sweet, he woke up early and cooked me birthday breakfast.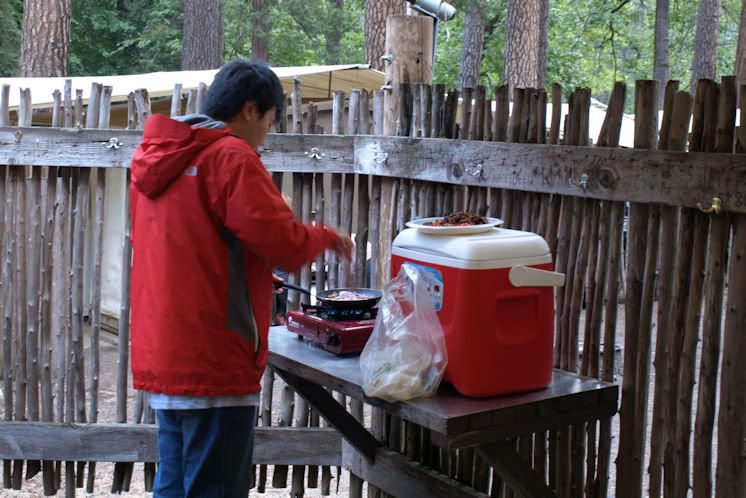 However, for comparison purposes, here was the omelet I cooked,…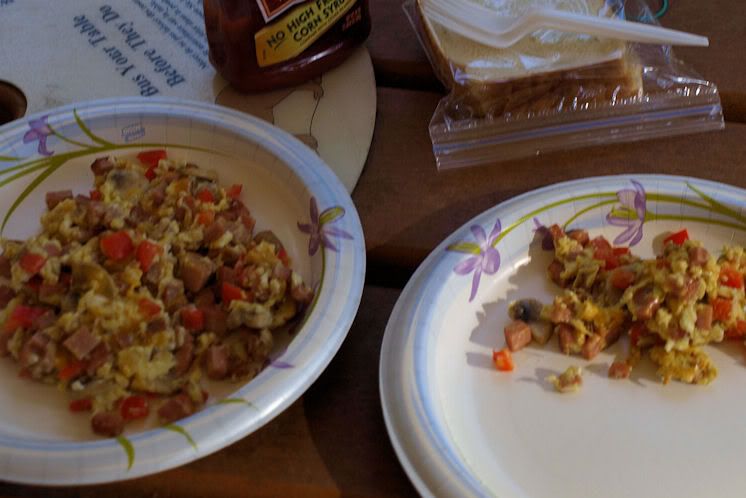 And 24 hours later, with the exactly same ingredients of red peppers, mushrooms, ham and onions, this was Buji's.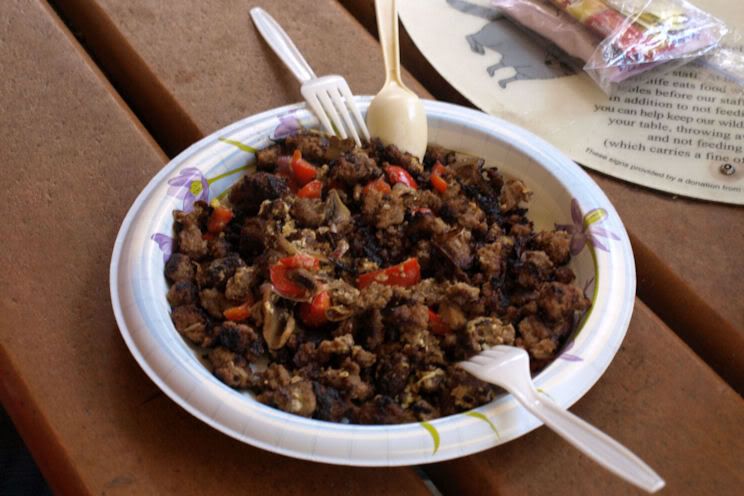 We spent my birthday hiking around the Village, it was raining quite hard, but with our lunches packed and trekking poles armed, off we went.
While we were on the shuttle to the Yosemite Falls, we overheard 2 groups of people on the shuttle of how they saw a mama bear with her baby last night at the Meadows, and another group saying a lone brown bear was up among the apple trees at the back of Ahwanee.
This, was the only bear I saw in my 4 days at Yosemite, yup, this one…
I did see a deer along one of our hikes, …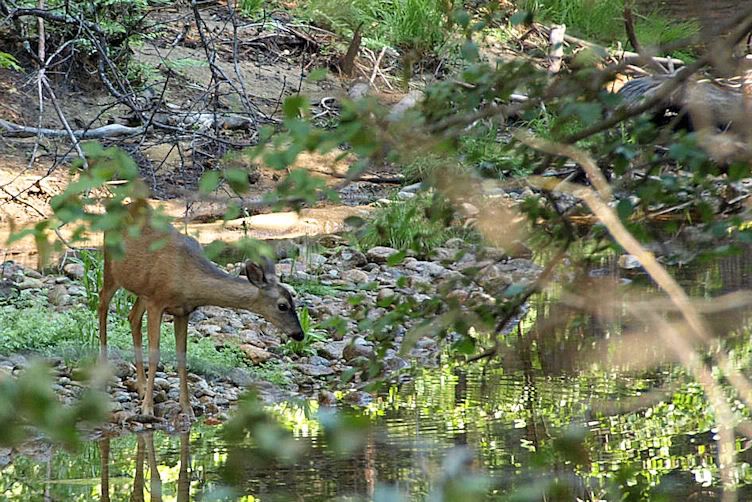 And lots of chubby and comical squirrels.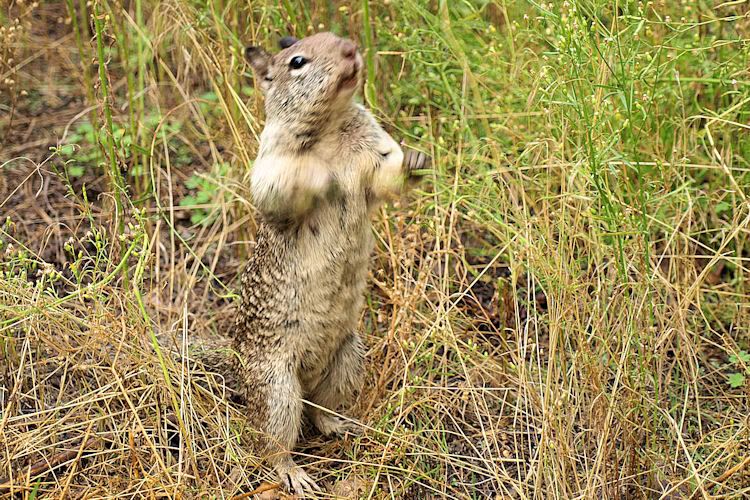 It was such a bootiful and majikal feeling, among Mother Nature's grandeur, momo felt so small.
I hugged many trees, and developed many rashes…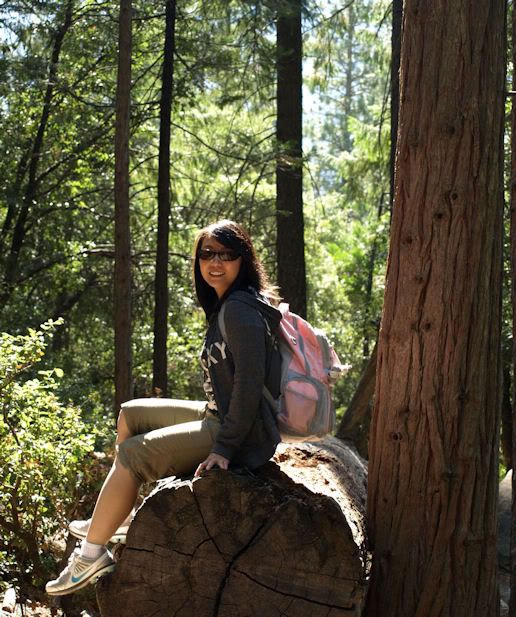 Watched a sunrise on a bridge,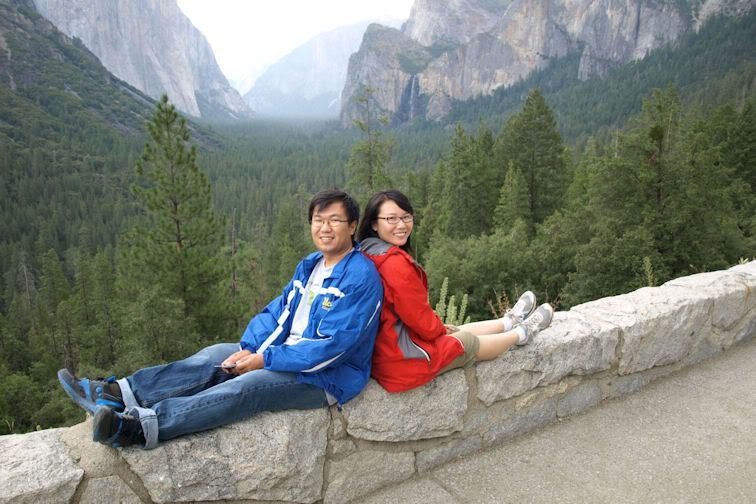 This was my favorite picture, just us on top of Glacier Point, our world, complete.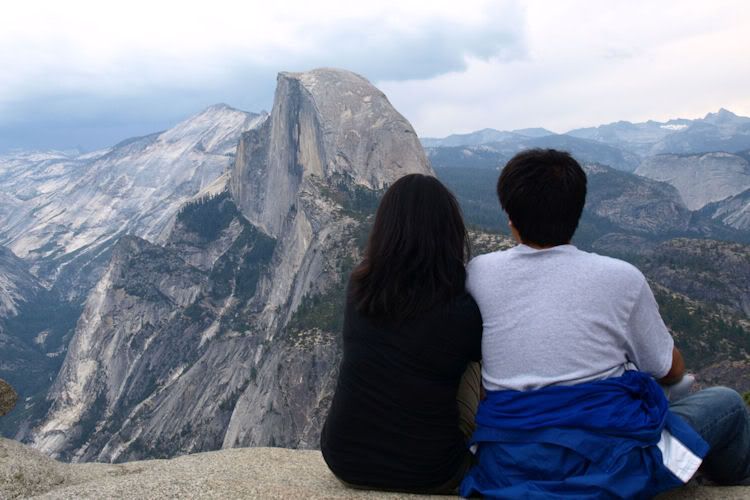 As well as you all know a momo, many of you must be thinking, well, what aboot Bubbles or Snoopy, did they go! Of course they did! 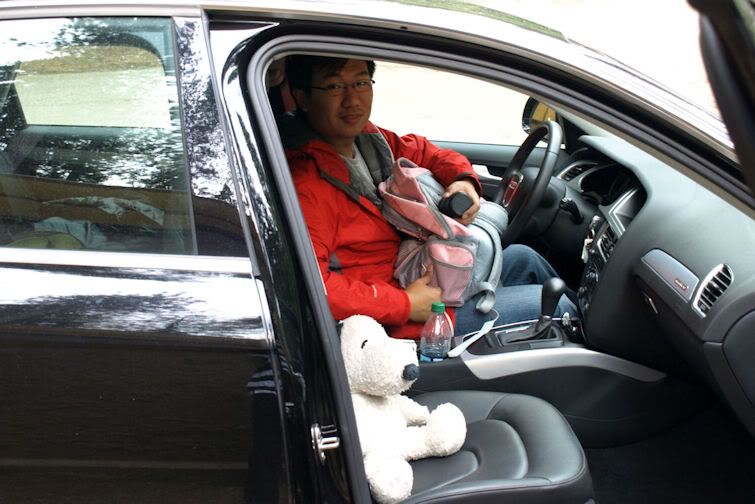 Of course, I tried to explain the concept of camping among nature to our wheekities, but I believe some things were lost in translations.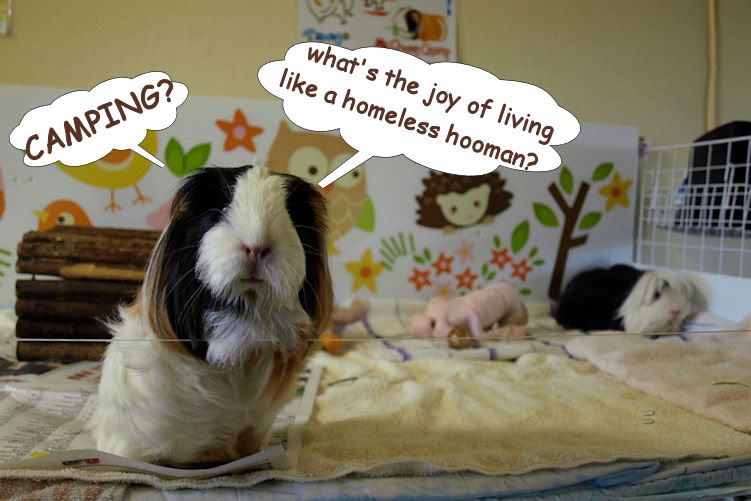 We had our best-est sitters Raul and Benie watching them, coming in twice a day. Upon leaving, Emma's sweet loving words….
If I promise to miss you, will you go away now???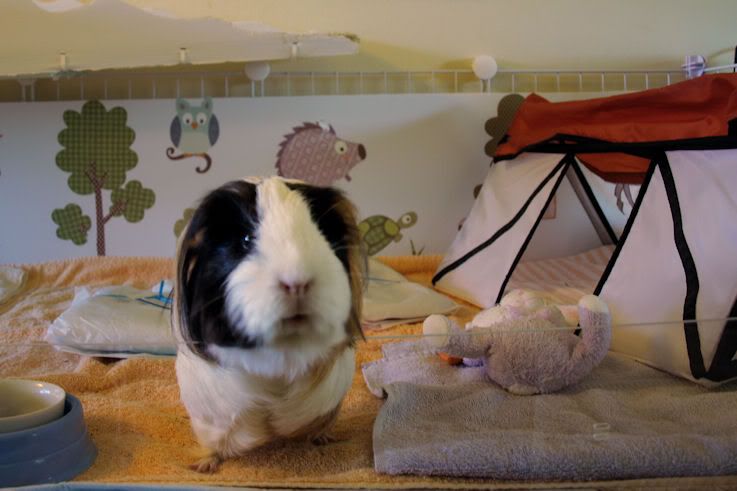 How did they do while we were away for 4 long days??
Well, Emma still got her swagga'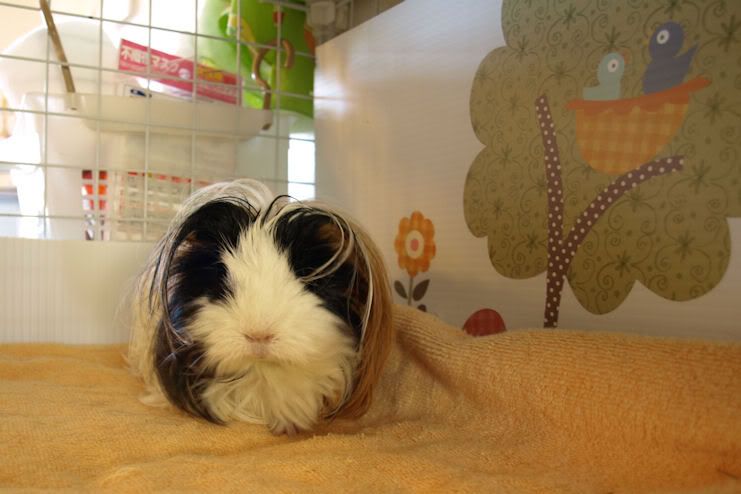 Bernie still styling his bangs,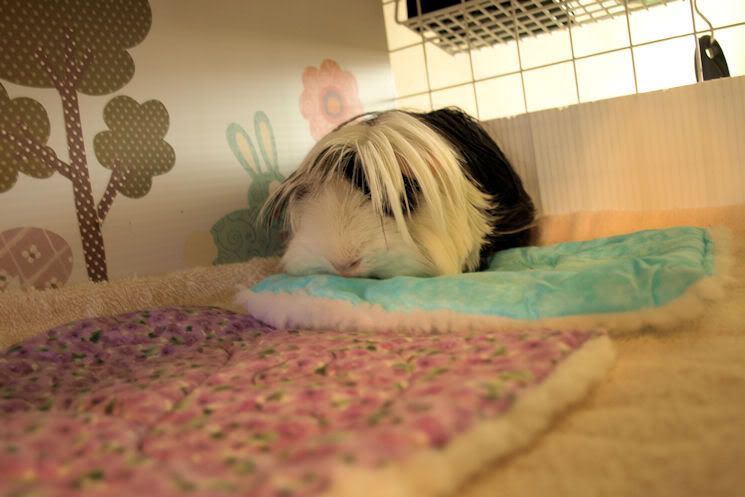 And Maxwell, well what can I say, he is a tad slow, I no think he realized we were gone yet.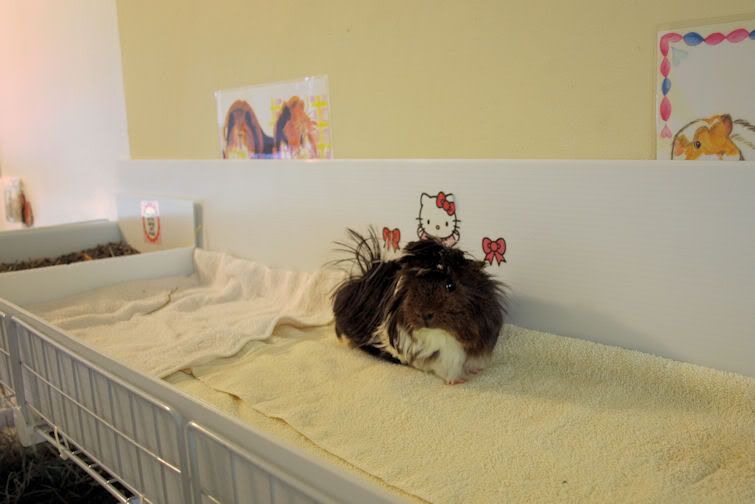 Now, before I get banned for getting off topic and procrastinating, I know everyone is waiting for picture for our McTrio's.
Emma somehow just has Buji wrapped around her pudgy paws, a daddy's girl who actually now programed like a dog will actually stand up and look for Buji nightly around 8pm for his return.
The seconds she starts wheeking, I can dish out dinner from the rice cooker.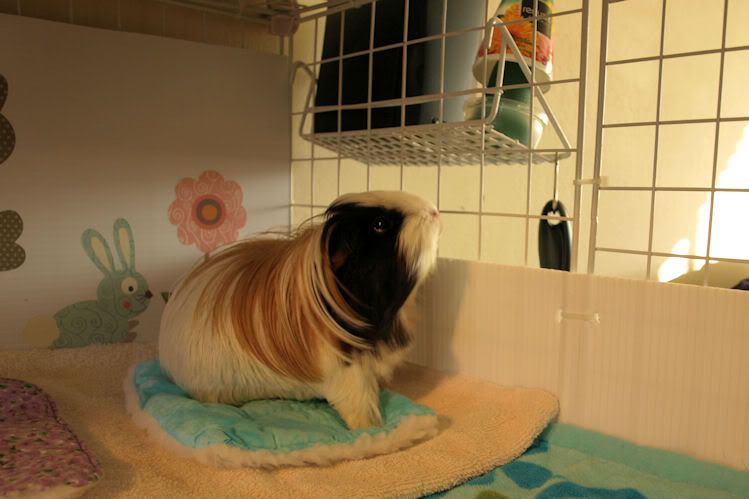 I am not jellies, really, I am not jellies.
Benben brought home toys, fabrics and Oxbow by the 50lbs for Emma, and what did he get me? Chicken wires and Gallardo?!?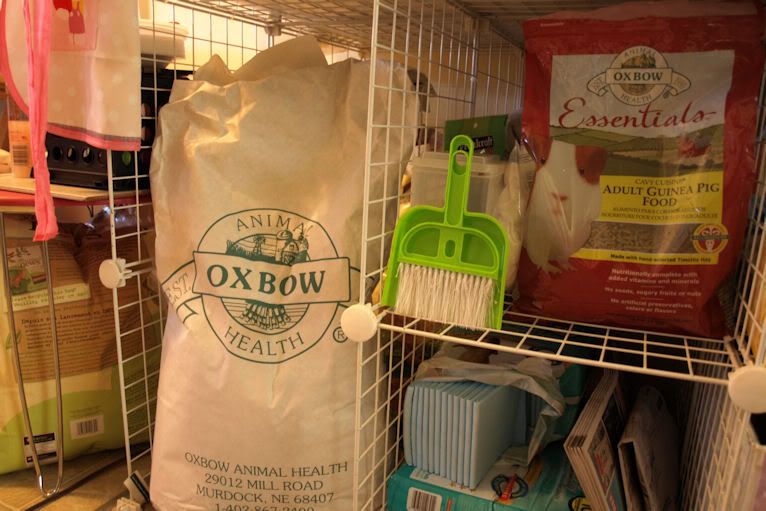 Bernie is still in the hazardous relationship with Emma. Where is the problem, you ask?
Well, he loves her just as much as she loathes him!
How's that for a relationship???
Maxwell has been through a lot lately, and I have been playing it low to prying eyes.
After it became obvious that the McTrio wasn't happy living together in the same cage, a trusted friend offered to bring Maxie into her own herd.
momo relied on updates and assurances over the phone that Maxie was happy in the new home.
But Maxie wasn't fine though, and this became clear the following Saturday when momo saw him again.
I broke down on the car ride home, I touched and felt many bumps on his little body, little did I know what my vet would find on the following day.
We found 13 bites over him, and 4 open abscesses…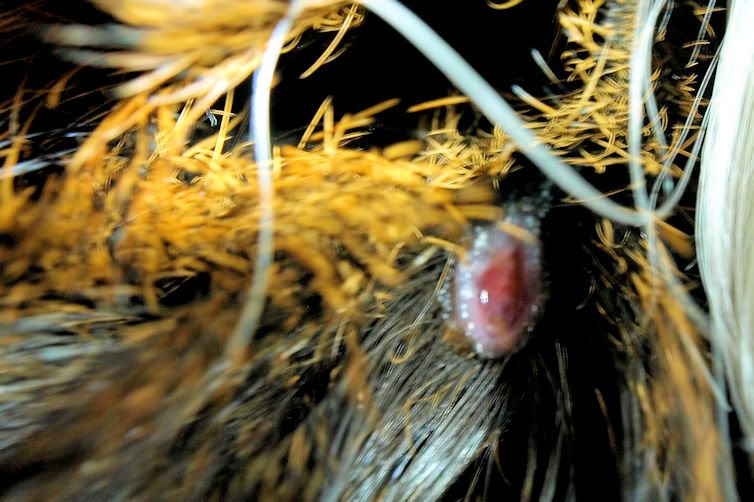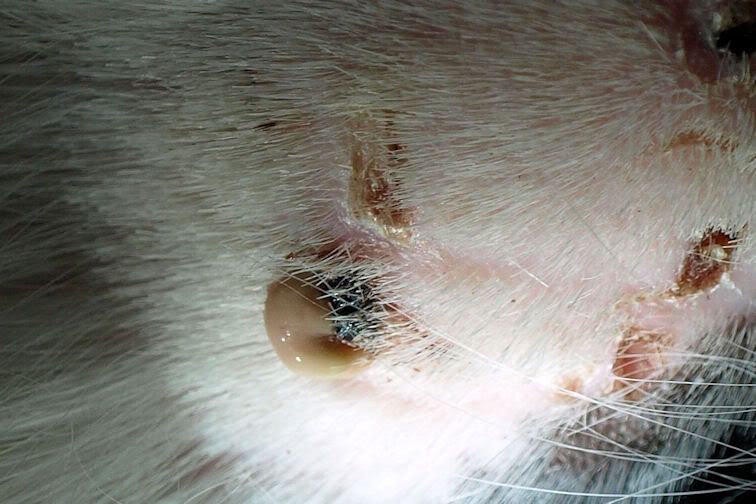 I deliberate for a long time how and should I even post aboot this story, but I decided I should.
I had a very difficult time dealing with it, I felt betrayed.
But then I realized I had no right to be mad at her…
It was ultimately my responsibility to keep Maxie safe, and I failed him.
Many visits to the vet were made, including a surgical procedure to remove the deepest of the abscesses, Maxie is now better and healing well.
I post this today, because I no longer struggle as to how you will all judge me, but because I feel everyone of you regard me as your friend, and I should be honest.
I now try very hard to let Maxie know that everything is just gonna be fine.
There will be comfy beds waiting for him,...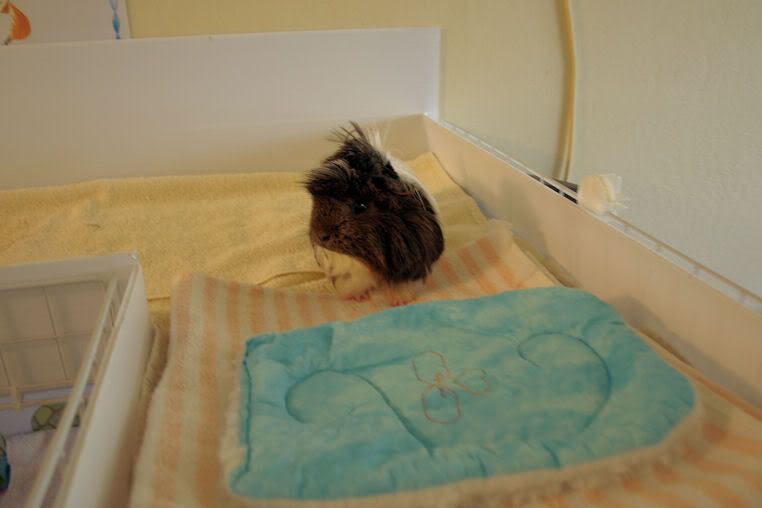 Many years of flowbee ahead,...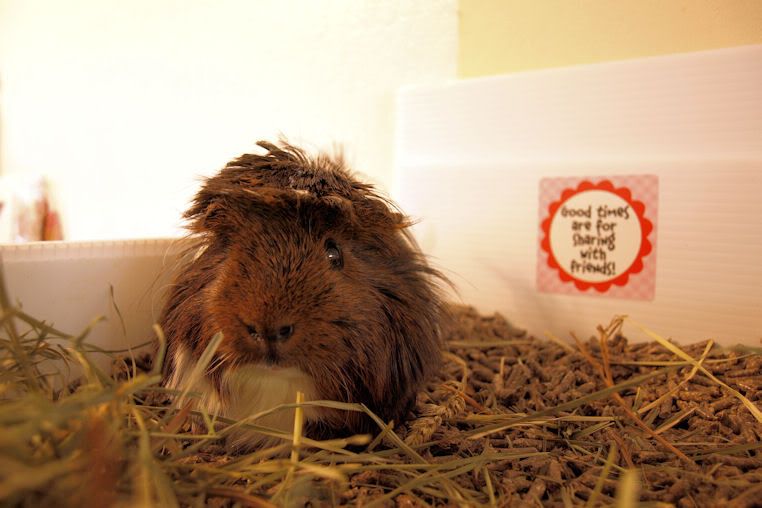 Pancaking naps,...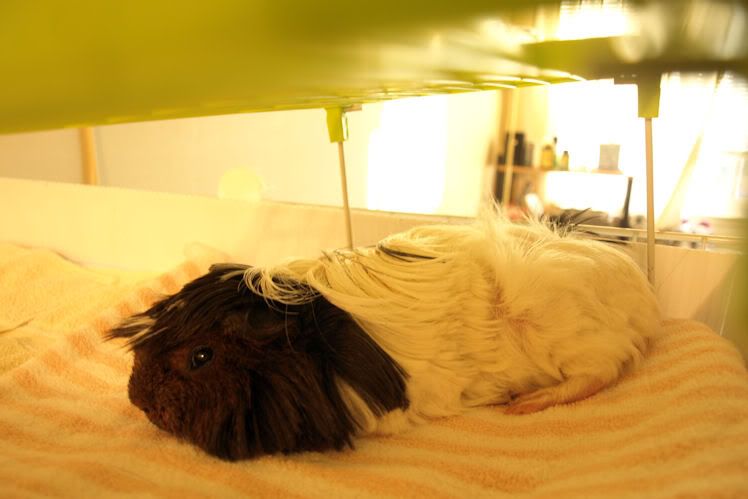 and,.. empty food bowls too,..
Uh,.. wait wait, what the what?
Room service?!?