Watching Guapo grow up was really something special. Everyday he had something new and exciting he wanted to show me and I looked forward to his surprises each morning. First, I've never seen Guapo's father so I was always anxious to find out how he would turn out. His father must've had some strong genes because Guapo looked nothing like Lily. I mean, look at this!
(what a mama's boy!)
Deep down inside I have to admit I was really really hoping he would be a long haired one like Lily. Darren still makes fun of me sometimes... "you know that almost everyday for a whole month you kept asking me doesn't it look like Guapo's hair is getting longer? It was so annoying!" I think I stopped asking him when I woke up one day and saw this.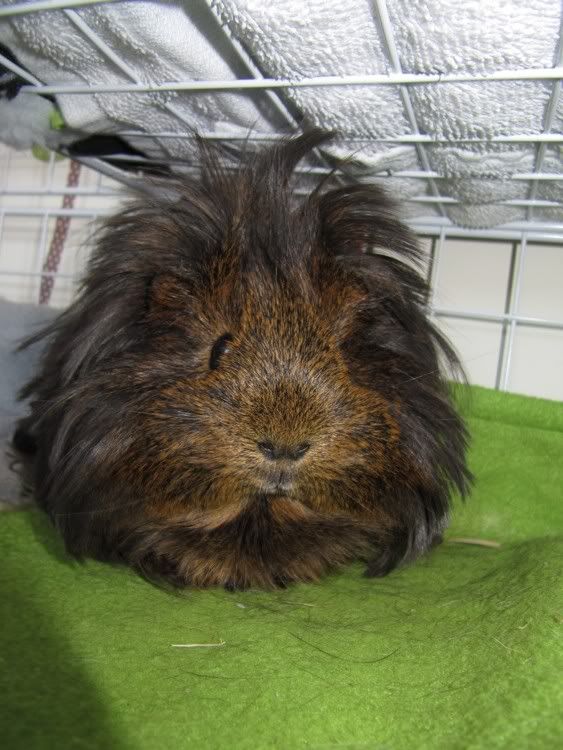 (woah...)
Having 4 piggies in one cage was just perfect. During the weaning stage, Lily's intimate moments with Guapo was very endearing to see. Guapo followed Lily around everywhere she went, copying her every move. Sometimes he would get lost and start to cry out for her. That is the only time I have ever heard Lily actually wheek, when she would go searching for Guapo. Other than that, she is pretty quiet most of the time. When it came to feeding time, Guapo was the most demanding baby ever! I mean, you just can't say no to this guy. Lily could be enjoying a piece of hay in the hay bin when Guapo just pops in unannounced and forces his way down there to get some milkies! Sometimes I can tell Lily just wants her privacy or even a little nap for pete's sake but Guapo didn't care because In Guapo's world it was milkies time -all- the time. Nothing was going to stand in the way of Guapo and his milkies!
(look. It's milkie time!)
(
hmmm... where are my milkies?
No more milkies for you! You are a big boy now Guapo!)
How do other piggies wean 4-5 babies is beyond me... it is some tough work! Thank you Lilypad... =)
For the most part Guapo and Nana got along pretty well. Nana and Lily are best of friends and very much bonded. It wasn't long before Nana became Guapo's trusted aunt. Took a few attempts for Guapo to finally understand that Nana no milkies.
(Guapo:
Milkies!!
Nana:
No, go away...
)
Poor Guapo...
Guapo and Poppy... now -that- relationship has developed interestingly. These two have a love-hate relationship. When I say that I mean Guapo loves Poppy and Poppy hates Guapo. Yes ladies... Poppy hates Guapo. Even when he was only a few days old he would try to cuddle up with Poppy or follow her around only to get chased to a corner in shame. It never stopped him from trying though, and boy did he try hard! Oh, and when he finally learned how to rumble he didn't hesitate to show off his new moves to Poppy.
(Guapo:
I love you Poppy! Can I cuddle with you?
Poppy:
eww... go away!
Poor Guapo...
He definitely win the award for the most persistent lover!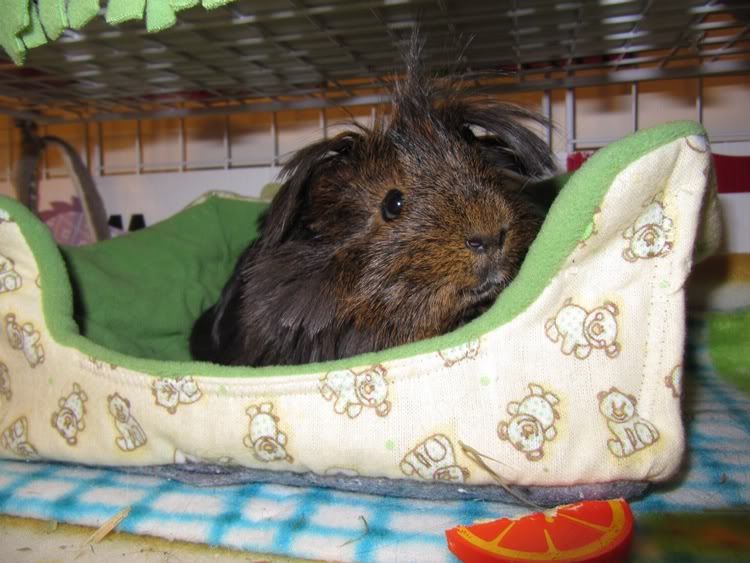 (How could you resist this Poppy?! *sigh*)