After having posted various things (mostly health problems) over the past months & finding useful information on here over the past years I thought it might be good to do a proper introduction to the shiny piggie household.
Our current longest resident is Bertie who came to us in September to be a companion for old man Willow (sadly now RIP). You may remember that Bertie had to have major surgery at 9 weeks old to remove a massive (& extremely expensive) abscess from the back of his neck. He then couldn't eat properly due to some problems with his jaw muscles post-surgery & went down to about 250g before we realised what was going on. We then syringe fed him & he gradually recovered the ability to eat independently. He sports a very stylish ears-on-top-of-the-head look as his surgery involved a sort of nip & tuck because it was such a big abscess! He is now 8 months old & doing ok. He has stopped growing at about 800g which we think is probably due to the surgery & long course of Baytril at such a young age. However, he thinks he is the biggest, baddest piggie of all & is actually rumbling at Horatio in the second pic.
Bertie is a real scruff being an Aby x & that's why he managed to hide an abscess for so long - it was under a massive rosette!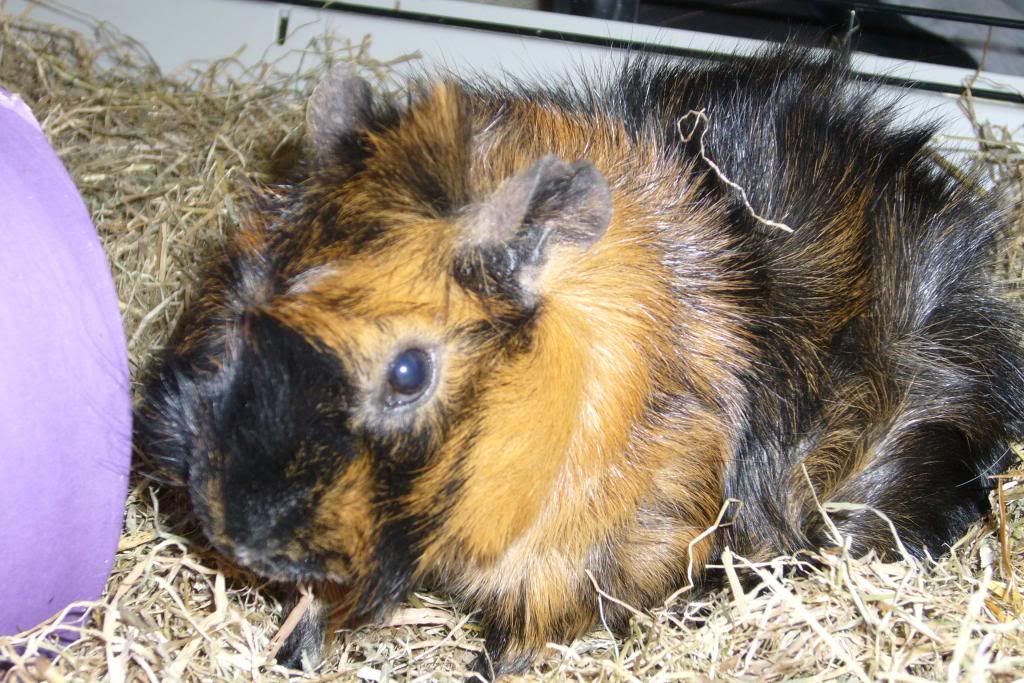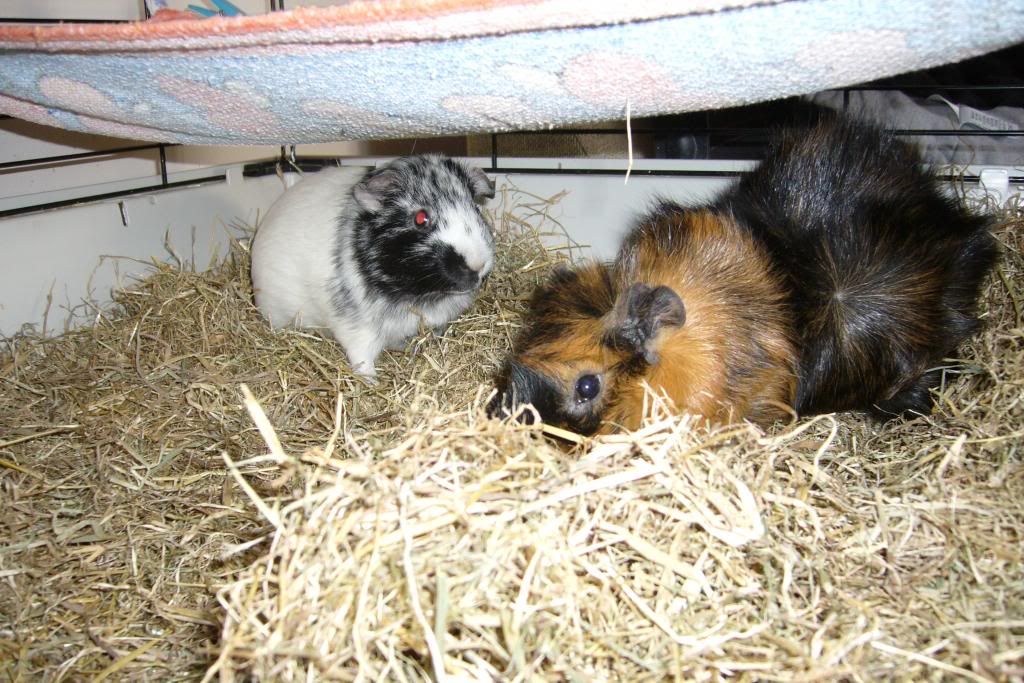 Next up is black & white Horatio who is Bertie's cagemate & a very sweet little chap around 5 months old. He still thinks we are going to eat him every time we pick him upp but is gradually getting braver. He thought the camera might eat him too...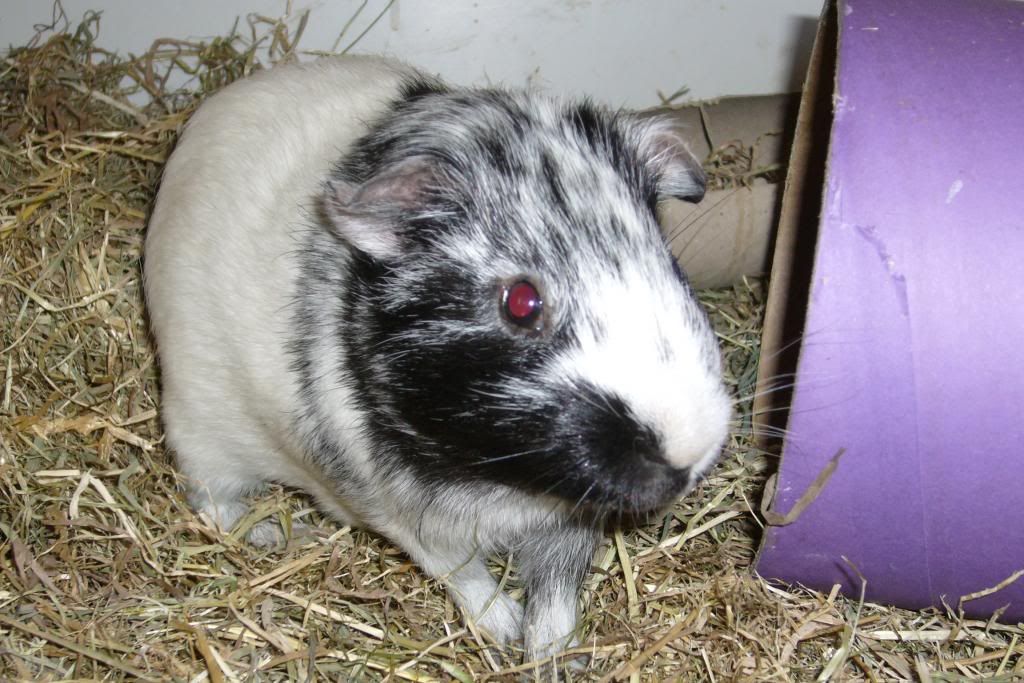 Horatio mostly just ignores Bertie's rumbling, strutting & asserting that he is a Very Important Pig. Horatio is almost as heavy as Bertie now though so we shall see who is boss longterm!
Next is Pip, who is currently featuring in the medical thread with a URI thing going on. He was extremely runty & thin when we got him & we have been fattening him up. Here's the before & after pics of Pip since we got him at New Year.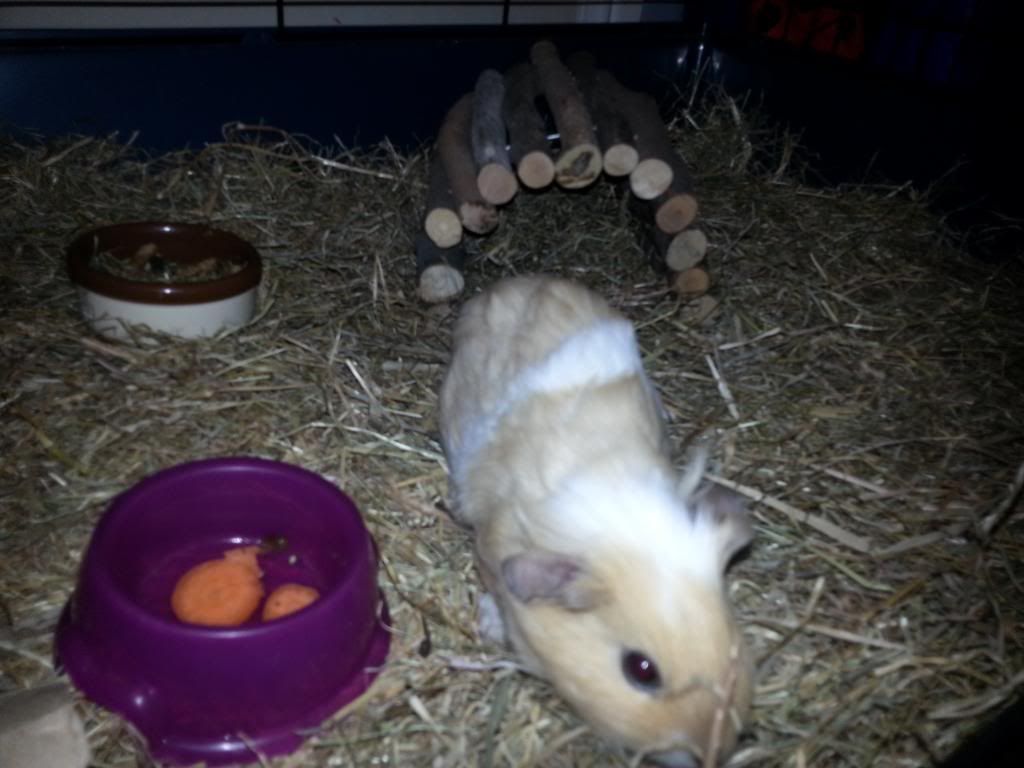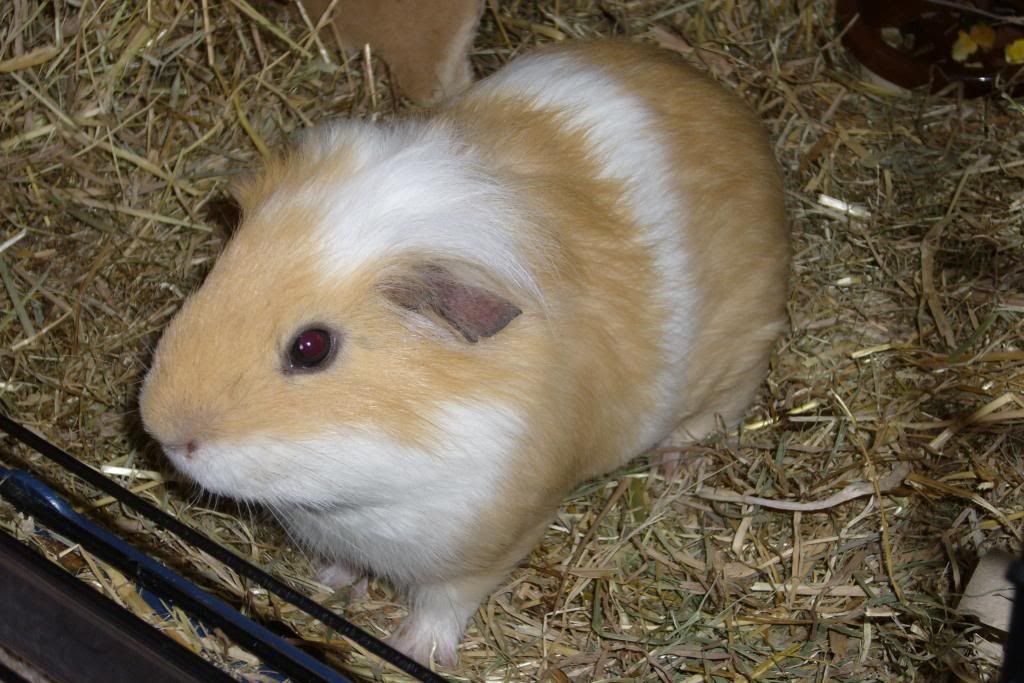 Pip is a very cheeky boy who loves nothing more than nibbling holes in my sleeves. He is living alone until his URI is cleared up & then we are due to introduce him to:
Peanut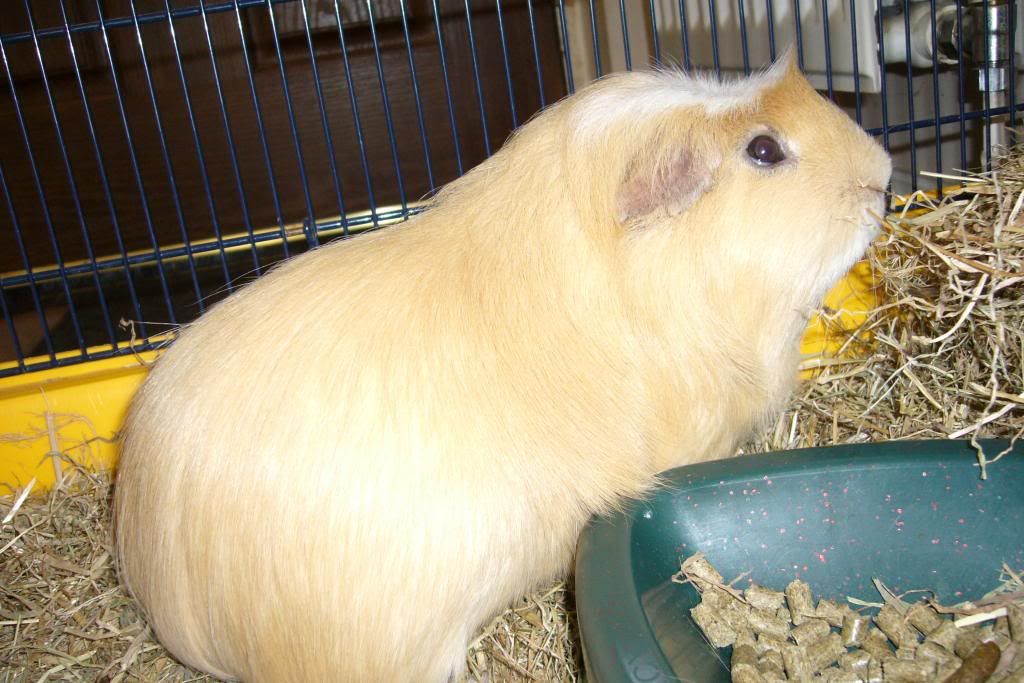 We got Peanut a few weeks back, his owner could no longer keep him & he is about a year or so old. We are his third lot of owners as the lady who had him previously got him when she went to collect a hutch & then took Peanut too as he & his cagemate had been fighting. Poor Peanut has absolutely shredded ears but seems ok & has a very cute crest & a long tail of hair over his bum. We did try Peanut & Pip together a while back but Peanut was very humpy & Pip was only 300g then so we had to stop it & take him out. We will try again as soon as Pip is better (he is over 600g now) so fingers crossed they will get on ok long term.
Lastly, here are a couple of pics of our old guineas now both no longer with us. Cloud is the white & Willow the black. They are the pair that started the whole guinea thing in our house some years back... They were lovely boys with Teddy or Rex coats (not sure which is which) & curly whiskers Willow is in the pic with baby Bertie the first time they met.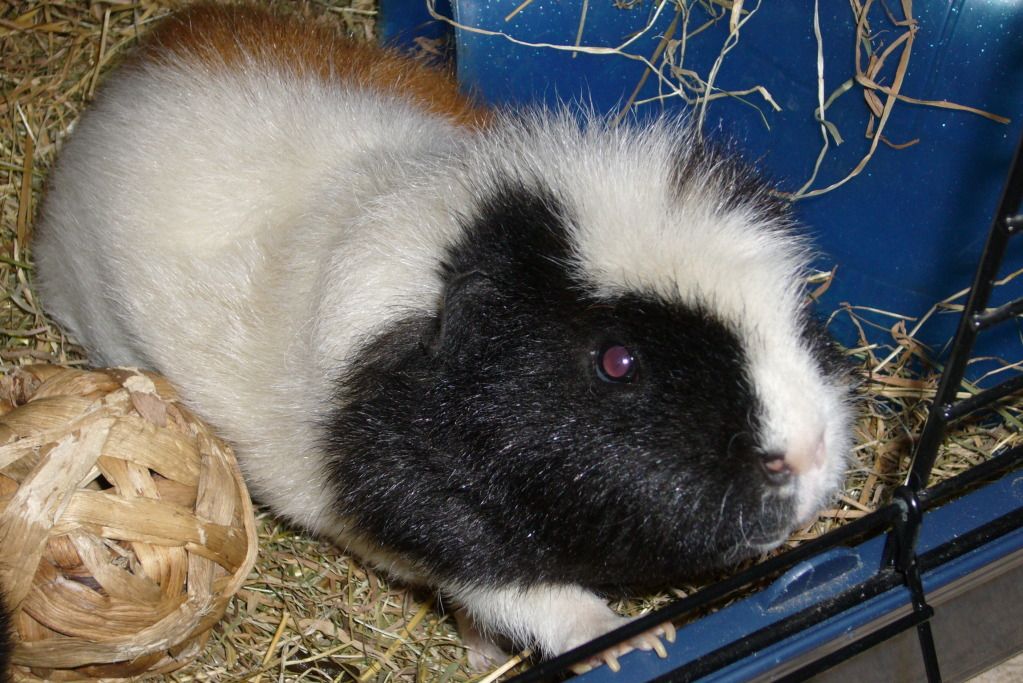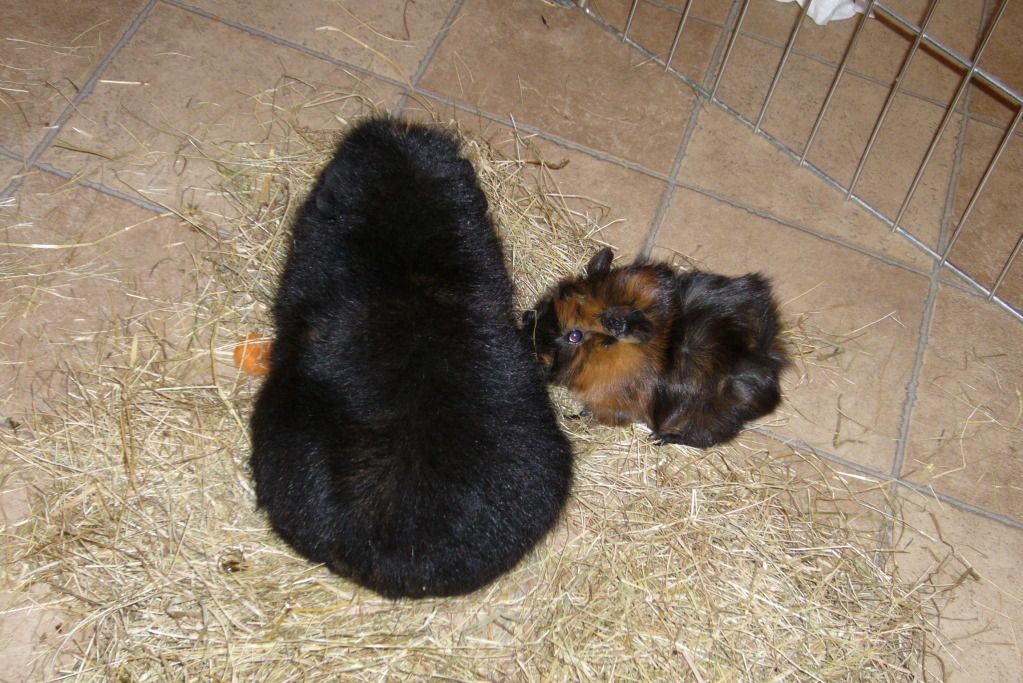 I hope you like meeting our boys, they say hi to all the other lovely piggies out there xx