She grew this odd thing on her eyelid, so we took her to the vet.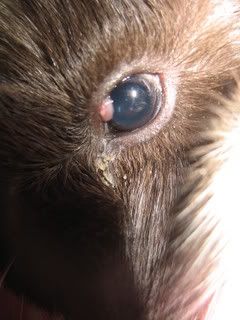 Dr. Robinson said that it was chlamydophila psittaci a folicle forming conjuctivitis. Contagious to humans. After removing the growth, she looked around and saw hundreds more forming. Poor baby! It would also spread to the other side, not to mention spread to Mottley and US!
So they put her under and snipped it off. Found hundreds more under the eyelids. Gave her a cream to put under her lids.
This is Candy drunk as a skunk after getting home.
And her eye
And her much more alert and happy chowing down.
It has been a couple of months and it hasn't returned and Mottley is safe as well.