Getting to know Bean (and his cage)
In the time I just had Bean, I really got to know him and his personality. He is a friendly,spunky lil boy who likes to stand up on the bars and wheek for veggies. He is a small boy (831 g yesterday) but what he lacks in size, he makes up in sweetness. Whenever I spot clean, he goes on a popcorning rampage. One of the most adorable things about Bean are his good manners. Whenever I give him veggies, a treat, or I put him back in the cage after lap time, he makes a short "coo." He does it every time without fail. I think it is his own way of saying "thank you!" He is adorable, his funky peruvian hair goes everywhere no matter how many times I brush him. I love my Beanie!
During the time bean was a lone pig, he lived in a 2x5 c and c cage with fleece. He had a small "kitchen area" and a few other levels. He loved to hide in the fleece forest. I can't find any pics of Bean's first c and c, but I swear I took some.
Bean had the perfect life, except he had no piggy companionship. I felt really bad, so after I had recovered from Cookie's passing, I headed once more to the piggy rescue. This time I took my Bean with me. I told everybody I was taking him so he could pick his own friend, but really, It was for my own security, as I certainly did not want a repeat of last time.
Meet Midnight
When I arrived at the rescue, they set us up for a piggy date. Bean dated many piggies, but the piggy he loved most was a black boy with a white nose stripe. Meet Midnight!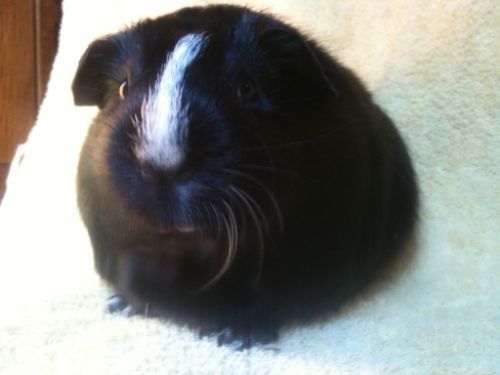 Midnight is a big boy, but he is shy. He is so sweet and quiet. He chews on everything. He gets along so well with Bean. Right now, they are begging for treats!
Sorry for bad quality, iPhone pic.